By Gail Kalinoski, Contributing Editor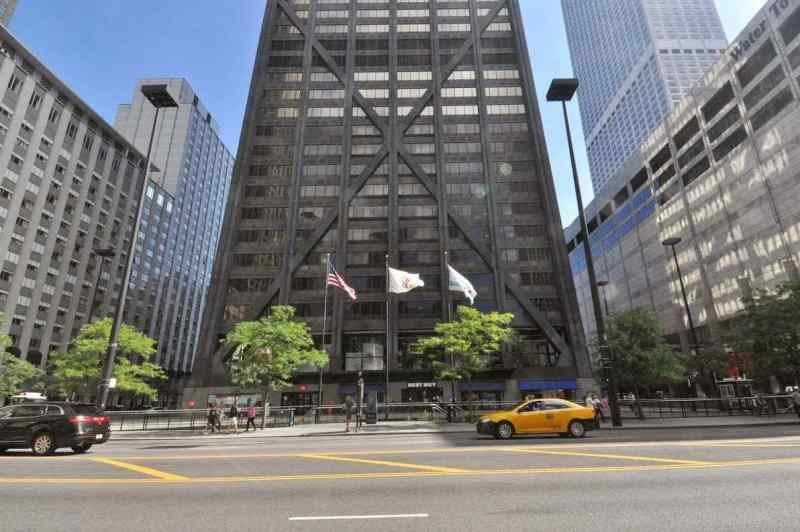 Mesa West Capital originated a $210 million loan to refinance the office space and parking garage at the iconic John Hancock Center in Chicago, including a $35 million in mezzanine debt that was placed with an institutional lender.
The owners, a partnership led by Chicago-based real estate investment firm Hearn Co., received a five-year, non-recourse loan that will be used to refinance the existing debt and for ongoing leasing and capital costs. Hearn acquired the 894,000 square feet of office space and a 710-parking garage in the 100-story skyscraper at 875 N. Michigan Ave., on the Magnificent Mile, in 2013. Since it purchased the office and parking assets within the building, Hearn has made significant capital improvements, including replacing the mechanical systems, renovating the entrances and lobbies on Chestnut and Delaware streets, as well as installing a new 13th floor lounge, fitness center and conference facility. Upgrades were also made to all common areas and bathrooms. Future improvements will focus on redesigning the Michigan Avenue Plaza.
The office space at the mixed-use tower is 85 percent leased with Interpublic Group, a leading global marketing firm, as the anchor tenant.
The financing was arranged by John Parrett and Bill Howe at CBRE.
"Hancock Center is an iconic asset that has been successfully repositioned by Hearn and our financing will facilitate the completion of Hearn's business plan," said Matthew Snyder, a vice president in Mesa West's Chicago office.
Snyder originated the financing out of the firm's Chicago office, which it opened in 2015 to support increased lending activities in the Midwest. Mesa West has its headquarters in Los Angeles and a third office in New York City. So far, the portfolio lender has originated about $600 million in short-term debt for the acquisition and/or recapitalization of several commercial, industrial and multifamily assets in the Chicagoland area. Last year, Mesa West provided Sterling Bay Cos. $220 million in financing for 1KFulton, a 10-story building in the city's West Loop submarket that is Google's new regional headquarters. Soon after, it provided $68 million in first mortgage debt to a joint venture of Prudential Real Estate Investors and GlenStar Properties to acquire and reposition 311 West Monroe, a 15-story office building, also in the West Loop. More recently, the firm funded a $32 million loan for the acquisition of a four-building portfolio in Chicago's North suburban office submarket.
The privately held debt fund manager and portfolio lender has more than $3 billion in assets under management. Its lending portfolio includes all major property types with loans ranging from $10 million to $350 million. Since it was founded in 2004, Mesa West has sourced and closed more than 200 transactions totaling more than $8 billion.