By Gail Kalinoski, Contributing Editor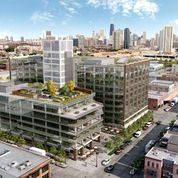 Sterling Bay Cos. has refinanced 1KFulton, a 10-story, 531,194-square-foot building in Chicago's West Loop that will be the new regional headquarters of Google, with $220 million in financing provided by Mesa West Capital.
The financing included $35 million of mezzanine debt, which was placed at closing with Morgan Stanley Real Estate Investing, according to a release from Los Angeles-based Mesa West.
HFF's debt placement team, led by Senior Managing Director Mike Kavanau, Managing Director Timothy Joyce and real estate analyst Christopher Knight, secured the financing deal for the Class A mid-rise office and retail development on behalf of Sterling Bay. HFF said proceeds from the floating-rate loan were used to retire existing debt and fund remaining project costs.
Originally constructed in 1923, the former Fulton Market Cold Storage warehouse at 1000 W. Fulton was acquired by Sterling Bay in 2012. The Chicago-based real estate investment and development company is turning the building into a state-of-the-art LEED Gold certified creative office and retail space. Joining Google, which is leasing 357,928 square feet of space, as long-term tenants are bicycle gear maker SRAM International Corp. and Sandbox Industries, a venture capital firm. The building, now called 1KFulton, was 88 percent leased at the time of the financing.
"1KFulton is a transformative real estate project that is redefining downtown Chicago's River West submarket," said Mesa West Principal Ronnie Gul, who originated the loan.
"The property is backed by strong sponsorship with deep experience in the market, which provided a competitive edge in leasing the asset and securing Google as the anchor tenant," Brandon Bachner, Mesa West assistant vice president, added in the company statement.
Building amenities include a fitness center, rooftop deck, on-site ZipCars, secure bike room, on-site detailing for both automobiles and bicycles, and a 256-space parking garage with electric car charging stations.
"IKFulton is a truly transformative asset for the West Loop," Kavanau said in the HFF release. "In fact, it showed up on every real estate player's radar screen when talking about any asset within a radius of a few miles. Google's significant commitment to the location was noted in nearly every offering memorandum and committee presentation in the past couple of years."
Joyce called the building, which occupies an entire city block in the rapidly growing Fulton Market District, "an exceptional physical asset."
With a tenancy that is "second-to-none in Chicago," Joyce noted that the "loan opportunity was hotly competed, with interest from a dozen marquis lenders."
Sterling Bay, founded in 1986, has been focusing the majority of its activities in the Near West Side of Chicago. In addition to 1KFulton, it acquired and redeveloped 111 N. Canal, 400 S. Jefferson. It also bought Oprah Winfrey's Harpo Studios, a 3.5-acre site on West Washington Boulevard, in a sale-leaseback deal that calls for the studio to remain for at least two years. There are four buildings on the property and Sterling Bay is eventually expected to develop a mixed-use project there.
Sterling Bay Principal John Gavin previously told Commercial Property Executive that the firm has aggregated more than $100 million in equity and 30 properties within the Fulton Market area over the last two years. In July, J.P. Morgan Asset Management became a joint venture partner with Sterling Bay to co-invest and co-develop properties in Chicago and elsewhere.
It is not the only development company active in that part of Chicago. Last week, Akara Partners announced it was planning a two-building, 270,202-square-foot apartment and retail complex at 500 N. Milwaukee Ave. in the River West neighborhood of the Fulton River District. The Chicago-based firm will demolish a vacant building on the site and construct 227 apartments and 14,000 square feet of retail.