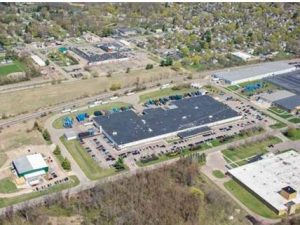 LXP Industrial Trust has recapitalized a 22-property, 6.7 million-square-foot, $550 million industrial portfolio, consisting primarily of manufacturing assets, through a sale to a new joint venture with an affiliate of Davidson Kempner Capital Management LP.
By square footage, the portfolio is concentrated primarily in Kentucky, Maine, Michigan, South Carolina and Tennessee. The list of properties also includes assets in Marshall, Minn., and Brookshire, Texas, among others.
The deal reflects LXP's single-tenant warehouse/distribution focus, with 93 percent of the company's gross book value now invested in such facilities, up from about 16 percent at the end of 2015. LXP will retain a 20 percent interest in the venture.
The new joint venture obtained a $381 million, 2-year non-recourse mortgage secured by 21 assets, with three 1-year extension options. The venture also assumed about $26 million of non-recourse financing secured by an asset in Michigan.
On the equity side, the partnership includes a $250 million additional equity commitment on a pro rata basis for future acquisitions of single-tenant special purpose industrial properties outside of LXP's core warehouse/distribution focus.
Eastdil Secured was the financial advisor on the recapitalization.
Distillation process
As of the third quarter, LXP's pro forma industrial portfolio consisted of 102 warehouse/distribution assets totaling 48.8 million square feet and 99 percent leased, with an average age of about 9 years.
According to LXP, the transaction helps advance its warehouse/distribution strategy, providing about $487 million of estimated net proceeds to satisfy credit line borrowings and fund warehouse/distribution investments and adding a committed capital source to provide specialized industrial real estate financing options to existing LXP tenants and merchant builder relationships.
In a telling note, an LXP presentation stated that the transaction "capitalizes on the underlying macro trend of de-globalization leading to increased supply chain redundancies and reshoring of means of production."