By Gail Kalinoski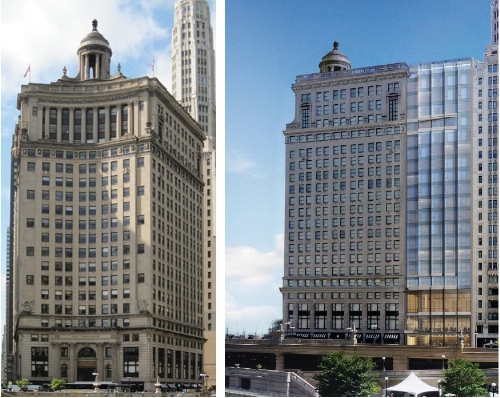 Chicago—Germany's Union Investment Real Estate GmbH, a leading international investment manager, continues to beef up its American holdings with the third commercial real estate acquisition announced this month. Union's latest investment is the $315 million sale-leaseback deal for the new luxury hotel LondonHouse Chicago arranged with sellers Oxford Capital Group LLC, and Angelo, Gordon & Co.
Working out to $697,000 per room, it is the highest per-room price ever paid for a Chicago hotel, according to Crain's Chicago Business.
Under a 25-year lease that includes profit sharing, an affiliate of Oxford Capital's wholly owned management arm Oxford Hotels and Resorts LLC, will manage the 452-key upscale lifestyle hotel set to open this spring at the corner of North Michigan Avenue and Wacker Drive in Chicago. The 361,467 square-foot, full-service hotel consists of floors 3 to 22 of the landmark London Guarantee & Accident Building, built in 1923, and the entire new adjacent 22-story glass tower. The Oxford-Angelo, Gordon venture retains ownership of 28,000 square feet of retail on the first and second floors of the 360 North Michigan Ave. building.
"This transaction outcome is a true win-win-win for Oxford, its institutional investment partner Angelo, Gordon, and Union Investment," John Rutledge, founder, president & CEO of Oxford Capital and Oxford Hotels & Resorts, said in a prepared statement. "Oxford and Angelo, Gordon are able to receive an attractive return on their original investment. Oxford Capital and Oxford Hotels and Resorts secured a long-term lease, management and brand licensing agreement for LondonHouse, which is part of its growing national collection of lifestyle hotels and brands. Finally, this transaction allows for Union Investment to acquire one of the most prominent, well-located properties in the United States at an attractive return for its investors."
Union Investment, a Hamburg, Germany-based firm, acquired the hotel through its Unilmmo: Europa open-ended real estate fund in the United States. In December, Oxford Capital, in a joint venture with an affiliate of Walton Street Capital LLC, agreed to a sale lease/management back deal with Union Investment for The Godfrey Hotel Boston. Located in the Downtown Crossing neighborhood, the Godfrey Hotel Boston has 242 guestrooms and opened in January. Like the LondonHouse Chicago deal, the Boston hotel transaction also included a 25-year lease and profit sharing.
It was Union Investment's first investment in a U.S. hotel and also its first acquisition in Boston. Apparently the German company likes Boston. The firm made two purchases in the city in the last two weeks, including the $452 million acquisition last week of 101 Seaport Blvd., a 440,000-square-foot Class A office building predominantly occupied by PwC on behalf of its Unilmmo: Europa fund. Earlier in April, Union Investment used its open-ended real estate fund Unilmmo: Global to buy One Lovejoy Wharf, a 235,000-square-foot building in the North Station neighborhood occupied by Converse, for a reported $150 million.
Rutledge said the joint venture was "delighted" to reach an agreement with Union Investment for its second U.S. hotel acquisition.
"This second investment underscores our reputation as a reliable and attractive partner to the hotel industry at an international level. It also opens up the prospect of further off-market transactions in the U.S.," Andreas Löcher, head of Investment Management Hotels at Union Investment Real Estate GmbH, said in a prepared statement. "Following our joint deals in London and Boston, we are delighted to be expanding our partnership with Oxford Capital in the Chicago metropolitan region with the acquisition of this exceptional property."
Oxford Capital and Angelo, Gordon acquired the building that was constructed on the site of historic Fort Dearborn in 1923 and an adjacent parcel at 77 E. Wacker Drive in July 2013. The home of the London Accident & Guarantee insurance company, the building was designed by famed architect Alfred S. Alschuler and is a local and national landmark. Located on the southwest corner of North Michigan and Wacker Drive, it is one of the four 1920s flanks of the North Michigan Avenue Bridge, along with the Wrigley Building, Tribune Tower and 333 North Michigan Ave. The joint venture turned the former office building into a high-end boutique hotel that will feature a tri-level rooftop venue including the building's iconic cupola, an indoor bar with private dining rooms, a chef-driven restaurant and lobby bar and 25,000 square feet of conference and event space.
Last month, Hilton Worldwide announced the hotel would be part of its Curio – a collection by Hilton, a global brand of four- and five-star luxury hotels.