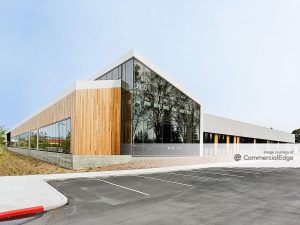 The Bay Area office market has attracted another tech tenant, amid an overall sluggish vacancy recovery. Computer device manufacturer Logitech has agreed to lease space within Assembly at North First, EQT Exeter's three-building office campus in North San Jose, The Mercury News reported.
Assembly at North First comprises 300,000 square feet of space. Switzerland-based Logitech will lease up to 86,000 square feet, occupying the entire building at 3930 N. First St.
A LEED Gold certified campus
In September last year, EQT Exeter acquired the campus for $192 million. The joint venture seller of SKS Partners, Invesco Real Estate and ProspectHill Group had started to redevelop the property in 2018, with designs by Gensler. The project was completed in 2019.
According to Gensler, the redesign was initially centered around a single tenant use situation. The owners decided to adapt the campus, adding features to improve health and wellness, including touchless entries, customizable air filtration systems and mudrooms. Additionally, Assembly at North First is LEED Gold certified.
Located at 3930, 3940, 3950 and 4000 N. First St., Assembly at North is less than 8 miles from downtown San Jose and within walking distance of public transit. The 27-acre site was formerly used by semiconductor company Lam Research.
Bay Area office vacancy barely improving
Logitech's lease is among the few large agreements that occurred in the Bay Area this year. Office vacancy across the East and South Bay dropped 70 basis points month-over-month, to 15.3 percent as of May, according to CommercialEdge data. The market's vacancy improved at a faster pace than the one of the Peninsula, partly due to tech companies' activity.
Although office utilization increased in the Bay, the area is lagging most other metros. In June, office occupancy was at 35.7 percent in metro San Jose, below the average 43.8 percent, according to a recent report by Kastle. The metros with the highest rate were Houston (55.6 percent) and Austin (58.9).
A few leases were completed by tech companies in the Bay Area market recently, including Apple's 382,000-square-foot agreement at Jay Paul Co.'s Mathilda Commons campus. An ongoing survey by the Bay Area Council suggests that hybrid and remote work will continue to be the preferred route by companies in the region. As of June, the 200 employers surveyed anticipate about 64 percent of their workforce to remain on a flexible schedule.
Logitech itself has benefitted from the growth of hybrid and remote work. The company is focused on gaming and computer peripherals, and video collaboration equipment—these categories grew by 12 percent in 2021, and by 74 percent in 2020, CEO Bracken Darrell noted in a Reuters interview.