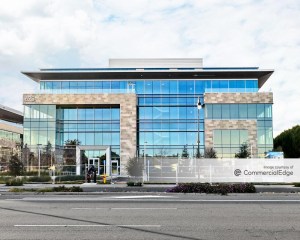 Apple has leased a newly constructed office campus in Sunnyvale, Calif. As first reported by The Real Deal, developer and owner Jay Paul Co. entered into the agreement with the tech giant for both buildings at its Mathilda Commons property. Newmark brokered the deal on behalf of the owner.
Jay Paul Co. first announced the 382,500-square-foot development in 2019. According to CommercialEdge, the developer obtained a $150 million construction loan for the project from U.S. Bank.
---
READ ALSO: Office Construction Up Across the Bay in Q1, Vacancy Lagging
---
Level10 Construction acted as general contractor for the campus, while ARC TEC was hired for architecture services. Construction work finished in September last year, with Mathilda Commons featuring two four-story Class A structures, situated at 615 and 625 N. Mathilda Ave. in the West Sunnyvale submarket.
The office park offers an amenity package designed around health and wellness, including MERV 15 air filters and touchless entries and access. Other features include 15-foot floor heights, a 15,477-square-foot fitness center, a 9,704-square-foot rooftop terrace, and a four-story parking structure with a ratio of 3.3 spaces per 1,000 square feet. Mathilda Commons is LEED Platinum certified.
Apple also occupies two other office buildings—totaling roughly 425,000 square feet—at 505 and 555 N. Mathilda Ave., which are owned by Kilroy Realty. The Mathilda campus is located roughly eight miles north of Apple Park in Cupertino, Calif.
Vacancy struggling in the Bay Area
Apple's latest lease announcement comes less than a month after the company delayed its return to office plans—initially set for May 23—due to the rising number of COVID-19 cases, according to Bloomberg. Bay Area—comprising the East and South Bay—office properties have struggled to maintain vacancy low, as decisions to return to the office have been a mixed bag among tech companies. As of April, the market had a 16.0 percent office vacancy rate, according to CommercialEdge—an uptick of 90 basis points month-over-month, but 320 basis points lower than a year ago.
Aside from tech, life science users continue to feature heavily among the largest leases of the market. Last month, BD Biosciences agreed to occupy 240,000 square feet at Park Point in Milpitas, Calif.—owned by Embarcadero Capital Partners and PCCP. In West Sunnyvale, office vacancy increased by 20 basis points month-over-month, to 18.7 percent as of April, according to the same data provider.
Jay Paul Co. is one of the largest office developers in the Bay Area. CommercialEdge shows that the company owns more than 14 million square feet of office space across both sides of the Bay. In downtown San Jose, it is currently building CityView Plaza—a three-building, high-rise office campus which will offer 3.8 million square feet. The project is set to be completed in 2024's fourth quarter.