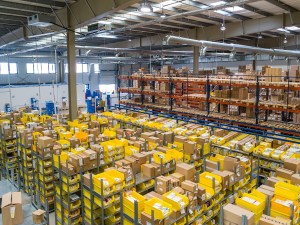 Lineage Logistics LLC, of Irvine, Calif., has acquired Hanson Logistics, a leading Midwestern provider of temperature-controlled warehousing, Lineage announced Wednesday. The transaction's dollar value was not disclosed.
---
READ ALSO: Why REITs Are Optimistic Despite Declines in Appraisals
---
Lineage is the world's largest REIT specializing in temperature-controlled facilities. Hanson is North America's 12th-largest cold storage and logistics provider, according to the International Association of Refrigerated Warehousing.
Lineage also announced two further acquisitions in North America.
A family-owned business founded in 1954, Hanson has a network of seven distribution facilities totaling more than 46 million cubic feet of capacity across Michigan (Benton Harbor/Sodus, Decatur, Hart and Hartford) and Indiana (Hobart, Lafayette and Logansport).
The company also operates a frozen food consolidation program, Velocities.
Cold storage stays hot
The Hanson acquisition follows Lineage's announcement of five other North American acquisitions earlier this year:
Dick Cold Storage (three locations in the Columbus, Ohio, area)
A new strategic warehouse in Lyndhurst, Va.
Great Lakes Cold Storage (two locations: Solon, Ohio, and Cranberry Township, Pa.)
Win Chill Cold Storage (one location, in Sioux Falls, S.D.)
Joliet Cold Storage (two locations: Bolingbrook and Joliet, Ill.)
Since then, Lineage has also acquired Marc Villeneuve, a direct-to-store distribution service in Montreal, and Orefield Cold Storage (three locations in eastern Pennsylvania).
There have also been other deals along the way.
A year ago in July, Advance Realty Investors and Greek Development received $104 million in construction financing for their Logan North Industrial Park in Logan Township, Gloucester County, N.J. A Lineage subsidiary, Preferred Freezer Services, had preleased the entirety of one of the first two buildings there, a 189,889-square-foot build-to-suit cold storage facility.
Lineage has more than 250 facilities in 35 states and two Canadian provinces, totaling more than 1.7 billion cubic feet of temperature-controlled capacity.
In January, Lineage announced plans to acquire Cryo-Trans, which is best known for owning and operating North America's largest private fleet of refrigerated and insulated railcars, more than 2,200 of them.