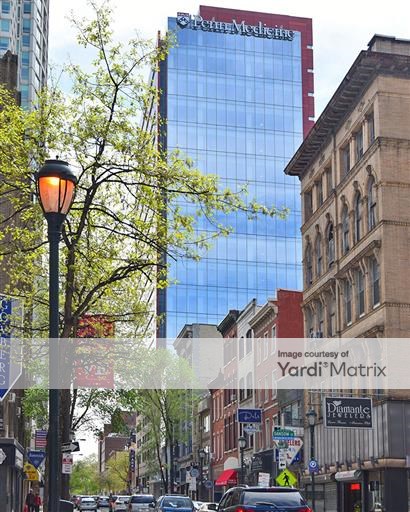 Liberty Property Trust has sold a Class A office tower in the heart of Philadelphia to Penn Medicine for $99 million. The University of Pennsylvania's health system is currently the sole tenant at the 153,242-square-foot property, located at 800 Walnut St.
The deal, which equates to $648 per square foot, marks the highest sale of an office building in Philadelphia based on its price per square foot, according to the Philadelphia Inquirer.
Liberty spent $48.5 million in 2013 to develop the 20-story property for Penn Medicine. The firm secured a $45 million loan in 2012 from Northwestern Mutual Life Insurance Co. to finance construction on the office building. That loan's term is up in February 2034. The firm used a portion of the proceeds from the sale to repay $35.9 million of mortgage debt on the property.
Located in the heart of Center City, 800 Walnut St. sits on 1.6 acres and features first-floor retail and eight levels of parking. The office building is one block from Washington Square and two blocks from Independence National Historical Park, where the famed Liberty Bell is housed. A SEPTA subway stop is located half a mile away from the property.
NEW STRATEGY
Liberty has been selling off many of its office properties over the last several months, choosing to focus on growing its industrial real estate business. Assets the firm has sold most recently include a 147,000-square-foot office property in Washington, D.C. for $61.8 million in March, an 806,000-square-foot Phoenix office portfolio for $255 million last fall and a suburban Pennsylvania office portfolio totaling 779,190 square feet for $106.9 million.