By Scott Baltic, Contributing Editor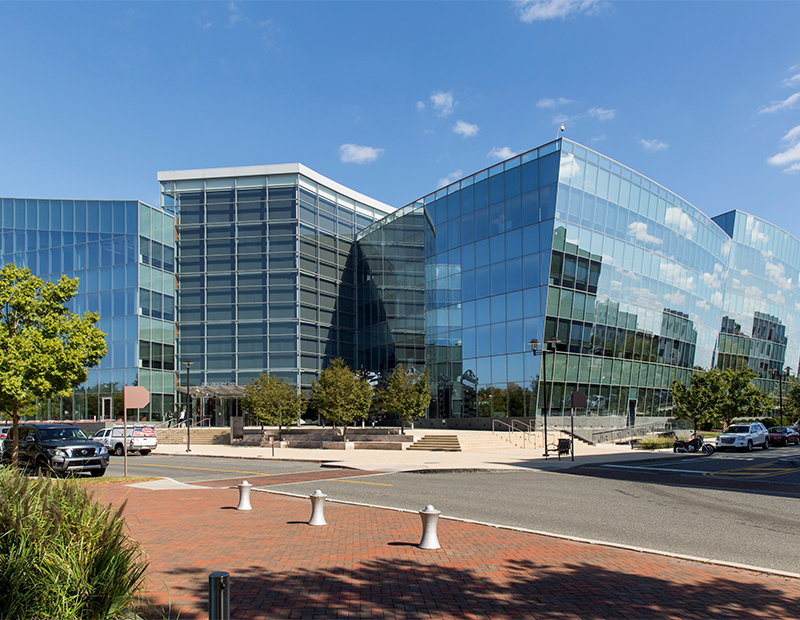 Liberty Property Trust has sold Five Crescent Drive, a 207,779-square-foot office building at the Philadelphia Navy Yard, for $130.5 million. The purchaser was an affiliate of Korea Investment Management Co. Ltd., which was advised by Coretrust Capital Partners LLC.
LPT completed the four-story office building (with adjacent surface parking area) in 2013 for pharma giant GlaxoSmithKline, which continues to fully occupy the property per a lease through 2028.
Designed by Robert A.M. Stern, the property reportedly received the first double LEED Platinum rating in Philadelphia from the U.S. Green Building Council.
Liberty was represented in the transaction by CBRE Capital Markets. KIM has selected the Philadelphia office of CBRE as the property manager.
"The trophy-class quality of the asset and the strong tenancy of GlaxoSmithKline are the factors that initially attracted KIM to 5 Crescent Drive," Coretrust Principal Randall Scott told Commercial Property Executive. "Additionally, as they learned more about the Navy Yard submarket, they grew increasingly comfortable with the investment opportunity. PIDC, Liberty Property Trust, Synterra Partners, P&A Associates and others have done an excellent job creating a real place there."
"KIM views Philadelphia as a good market with reasonable valuations and risk-adjusted return expectations," he added. "Their allocation of capital to Philadelphia is also an endorsement of the city's potential for continued economic growth."
This is KIM's second major property acquisition in Philadelphia; its first was the February 2016 purchase of the 870,000-square-foot Cira Square in University City.
KIM is a wholly owned subsidiary of Korea Investment Holdings Co. Ltd., which is among Korea's largest investment and securities firms.
Navy Yard keeps moving forward
In connection with its joint venture partner, Synterra Partners, Liberty has developed 1.6 million square feet of office and industrial space at the Navy Yard, and the Navy Yard continues to evolve. Barely three months ago, an $11 million, 6-megawatt gas-fired peaking plant began operation there.
Sited on a parcel that's less than half an acre, the plant was designed by Ameresco Inc., of Framingham, Mass., and its three generators will provide power as needed to the Navy Yard's own 34-megawatt microgrid.
Image courtesy of Greg Benson