By Scott Baltic, Contributing Editor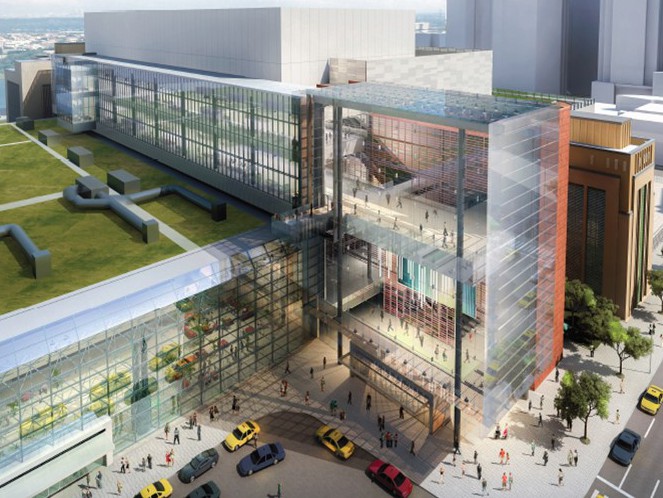 New York—Lendlease and Turner Construction will comprise the design-build team for the $1.5 billion expansion of the Jacob K. Javits Convention Center, on Manhattan's West Side, it was announced last week by Empire State Development, a subsidiary of which owns the convention center.
The size of the expansion is in keeping with the stature of the Javits Center, the nation's busiest convention venue, and already enormous. Sited on Eleventh Avenue between West 34th and West 40th streets, the facility covers six blocks and encompasses 2.1 million square feet, of which 840,000 square feet is exhibition space.
The successful proposal reportedly will provide significant design, logistical and operational benefits, including increased atrium space, integrated public and support spaces and a commitment to maintaining current operations during all phases of construction.
Key components of the expansion include:
A truck marshaling facility that can accommodate more than 200 trucks hauling exhibit materials to and from the Javits Center;
27 new loading docks;
90,000 square feet of permanent exhibit space, to be combined with the existing exhibit space to create an approximately 500,000-square-foot exhibition hall;
45,000 square feet of meeting room space;
A 55,000-square-foot ballroom, reportedly the largest of its kind in the New York region;
A green roof terrace and pavilion accommodating 1,500 people for outdoor events;
New kitchen and food service areas;
Back-of-house and administrative space; and
LEED Silver certification.
The truck marshaling facility is expected to reduce the move-in and move-out process for events by 30 percent, leading to an additional 20 days for new events. The Javits Center hosted events on 337 days in 2015.
Already under way is the first phase of work, which will ready the site for the expansion. This includes utility work and the construction of a new three-story building that will house transformers, back-up generators and other electrical equipment needed for the expanded convention center. This phase is being overseen by Tishman Construction.
The expansion project will be funded through a combination of state appropriations and bond proceeds. The Lendlease Turner consortium includes TVS as the design firm.
Among other benefits, the expansion is projected to generate 200,000 additional hotel room-nights a year.
This expansion follows a recent renovation at the Javits Center, which included the installation of new façade, flooring, mechanical and sustainability systems, as well as a 6.75-acre green roof that has become a sanctuary for area wildlife.