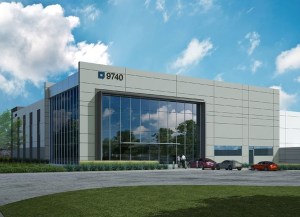 TAE Technologies, a Foothill Ranch, Calif.,-based private fusion energy research company, is expanding its operations and leasing a 99,638-square-foot industrial property that is under construction in Irvine, Calif., from owner LBA Logistics.
The Class A building at 9740 Irvine Blvd. is expected to be completed in April 2023.
TAE, which is building a sixth-generation research reactor named Copernicus, plans to have 100 employees at the new facility. The company recently received an additional $250 million in funding toward its mission to develop and commercialize nuclear fusion, a safe and sustainable source of clean energy.
---
READ ALSO: Industrial Developers Tackle Construction Challenges
---
The development is part of the 26-acre industrial property near the intersection of Irvine Boulevard and Alton Parkway. It is one of the largest industrial properties in the Irvine Spectrum. It consists of two buildings totaling approximately 450,000 square feet and was previously occupied by Toshiba Corp. LBA Logistics acquired the property in 2016 and renovated the larger building at 9750 Irvine Blvd. A smaller two-story office building was demolished where the new 9740 Irvine Blvd. building is being constructed.
Kidder Mathews Vice President Oliver Ternate represented TAE in the lease. LBA Logistics, an Irvine-based national owner and operator of industrial real estate, was represented by Steve Wagner, Louis Tomaselli and Zach Niles from JLL.
LBA deals
Earlier this summer, LBA Logistics sold Westech Business Center I and II, a seven-building, 225,323-square-foot light industrial complex in Phoenix to Schnitzer Properties. The sale price for the two properties, built between 1985 and 1997, was $46.2 million, according to Maricopa County records.
In January, LBA Logistics acquired a new industrial building in the Imeson Park business park in Jacksonville, Fla., totaling more than 1 million square feet from VanTrust Real Estate. The property, located at 10501 Cold Storage Road and net leased to Amazon, sold for $103.5 million, according to Duval County Clerk of Courts records.
A year earlier in January 2021, LBA Logistics and Blackstone Real Estate Income Trust Inc. recapitalized two industrial portfolios owned by LBA and totaling $1.6 billion of gross value. Blackstone REIT acquired an approximately 60 percent combined interest across the two portfolios and LBA's investment fund and its investors retained the balance. The portfolios consist of 71 high-quality assets totaling 9.5 million square feet located primarily in last-mile locations in the Seattle and California markets.