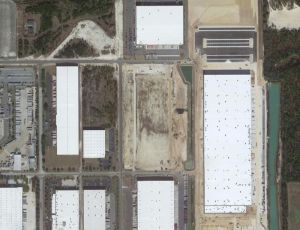 With the assistance of JLL Capital Markets, VanTrust Real Estate has sold a new industrial building totaling more than 1 million square feet in Jacksonville, Fla., to LBA Logistics. The asset, 10501 Cold Storage Road, Building E, which is net leased to Amazon, sold for a total of $103.5 million, according to records of the Duval County Clerk of Courts.
Building E is located within Imeson Park, a 156-acre, master-planned industrial business park. The multi-structure complex sits less than 7 miles from Jacksonville Port Authority and is within close proximity of Interstates 95 and 295, thereby placing the entire Southeast within easy reach. VanTrust completed the development of Building E in 2021 with the assistance of an approximately $55.5 million loan through JP Morgan Chase.
---
READ ALSO: What to Expect From the Industrial Sector in 2022
---
A state-of-the-art facility, Building E encompasses such features as a 40-foot clear height, wide column spacing, office accommodations, ESFR fire protection and ample auto and trailer parking.
JLL Capital Markets' John Huguenard, Luis Castillo and Cody Brais marketed the asset and arranged the transaction on behalf of VanTrust. The team likely found an audience of eager buyers when presenting the opportunity.
Magnet for investors
By the close of the third quarter, industrial investment activity in Jacksonville had already reached $500 million year-to-date and was on track to exceed the annual investment activity recorded in 2019 and 2020, according to a report by Avison Young.
"There is considerable investor appetite for high-quality distribution properties in Jacksonville but there are very few current opportunities," according to the Avison Young report. This dearth of high-quality, investment-grade industrial assets on the market also caused a decrease of 17.6 percent in the average price per square foot of industrial assets in Jacksonville from pre-pandemic pricing in the first quarter of 2020 to the third quarter of 2021.
Notable Jacksonville industrial transactions in the last six months of 2021 included VanTrust's disposition of 10501 Cold Storage Road Building B, an approximately 552,700-square-foot structure, for $50.8 million. At Westside Industrial Park, three facilities carrying the address of 4601 Bulls Bay Highway—the 439,400-square-foot Building 100, the 415,800-square-foot Building 200 and the 310,000-square-foot 300 12-C—sold for $41.8 million, $44.1 million and $35.2 million, respectively.
Investors have taken notice of this critical Southeast logistics hub, and strong capital flows into Jacksonville are expected to continue for some time, Luis Castillo, managing director with JLL Capital Markets, said in a prepared statement.
In October 2021, VanTrust acquired an additional 196 acres in Imeson Park for $22.8 million. The company plans to build Imeson Park South, a six-building, master-planned industrial park featuring 2.8 million square feet of accommodations.