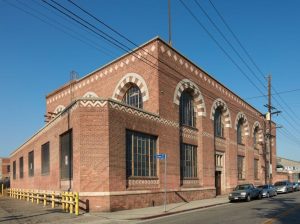 Mateo Street Properties Inc. has secured a tenant for 635 Mateo, a 24,567-square-foot former filming destination in the Arts District of downtown Los Angeles. Gunderson Dettmer, an international law firm, will occupy the whole space, planning to use it for the firm's L.A. headquarters.
Originally completed in 1929, the two-story office building has an Art Deco tile facade, arched windows, an exposed brick rooftop deck, sawtooth skylights and a parking lot. The property was the former headquarter of Hills Brothers Coffee and then leased to Southwestern Bag Co., which transformed it into a filming location.
Located at 635 Mateo St., the office building is less than a mile from Interstate 10. Numerous dining and retail options, including Hanks Organic and Joe's Downtown Market, are within walking distance of the property. Warner Records, RFRM Collective and Exclusive Artists Management are other major tenants in the area.
Managing Director Nicole Mihalka, alongside Vice Presidents Dana Vargas and Caitlyn Ross of JLL, represented the landlord, while Partners Richard Abbitt and Ryan Shuler of Industry Partners worked on behalf of the tenant.
With vacancy rates slowly improving, downtown Los Angeles has registered some major lease deals in the past months. Recently, Coretrust Capital Partners landed three long-term tenants at FourFortyFour South Flower, totaling 43,850 square feet.