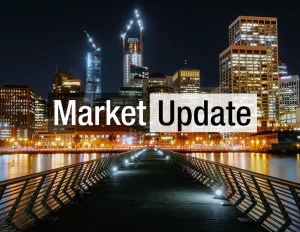 Office leasing activity in metro Los Angeles remained sluggish, but improvement is noticeable for the first time in several months. As of April, office vacancy in the metro was 12.9 percent, down 80 basis points month-over-month and 110 basis points year-over-year, according to CommercialEdge data. The national rate was 15.7 percent.
Among gateway markets, Los Angeles had one of the lowest office vacancy rates in April, with some positive office sector movement for the metro. It was followed by Manhattan, where vacancy was at 14.2 percent in April. Metros where vacancy failed to improve significantly included Chicago (20.2 percent) and San Francisco (17.4 percent).
At the same time, occupying office space is becoming more expensive across the U.S. The average full-service equivalent listing rate in Los Angeles grew 4.0 percent year-over-year, to $42.20 as of April, above the $37.37 national average and still among the top ten most expensive metros to rent in—Manhattan's average listing rate was still the highest, at $71.87.
Submarkets where vacancy improved on a month-to-month basis included Los Angeles' CBD, where the figure dropped by 70 basis points, to 14.4 percent—improving for the first time since the start of the year. Some media and entertainment hubs recorded improvements to office vacancy, including Culver City (down 310 basis points, to 12.7 percent) and Hollywood (down 310 basis points, to 10.1 percent).
CommercialEdge covers 8M+ property records in the United States. View the latest CommercialEdge national monthly office report here.