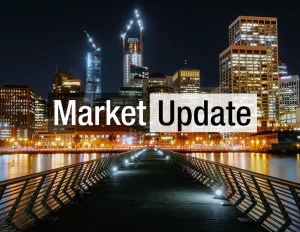 Office construction activity is returning to pre-pandemic levels in Los Angeles. As of March, the metro had 3.2 million square feet of office space under construction, according to CommercialEdge. The amount decreased by 63.4 percent year-over-year, 1.1 percent of total stock, 110 basis points lower than the national rate.
Following nationwide trends, most gateway office markets have experienced a slowdown in development. After a higher-than-usual number of deliveries, the pipeline shrunk in Los Angeles as well—also influenced by significant changes across office-using employment sectors. Another effect is the plateauing vacancy. As of March, overall vacancy in Los Angeles was 13.7 percent, down only 10 basis points year-over-year.
Developers remained focused on bringing new Class A office space online, a large portion of which is intended for creative use, such as media, film and entertainment. Six projects were completed during the first quarter, totaling just over 2 million square feet—well above the quarterly average over the past year (about 700,000 square feet).
In Burbank, Invesco Real Estate and Overton Moore Properties completed work on Avion Burbank—a mixed-use campus that includes 142,250 square feet of creative office, in addition to more than 1 million square feet of creative industrial and retail space.
One of the largest projects currently underway is also in Burbank. Worthe Real Estate Group and Stockbridge Real Estate Fund are developing the Second Century Project, an expansion of Warner Bros.' studio complex, set to be completed on its 200-year anniversary in 2023. The two Frank Gehry-designed buildings will add 800,000 square feet of space to the office market.
Another large office development is taking shape in Culver City. Samitaur Constructs' (W)rapper Tower nears completion after several years of development. Eric Owen Moss Architects designed the building, which totals more than 180,000 square feet. JLL was tapped to handle leasing for (W)rapper Tower, set to fully open in August this year.
Other submarkets that recorded significant development activity included East Los Angeles (310,000 square feet under construction), Pasadena (470,000 square feet), San Gabriel Valley (210,000) and South Los Angeles (290,000). The metro remains poised for robust activity, despite an overall decline. Adding planned and prospective square footage to the mix, the pipeline represented 3.7 percent of total stock in March.
Tepid leasing activity continues
Despite being 50 basis points higher than the previous quarter (at 13.2 percent in December), office vacancy in Los Angeles maintained a better position among metros tracked by CommercialEdge. The national vacancy rate was 15.9 percent in March. Other gateway markets such as San Francisco (17.3 percent) and Chicago (20.3 percent) are significantly slower to recover than Los Angeles.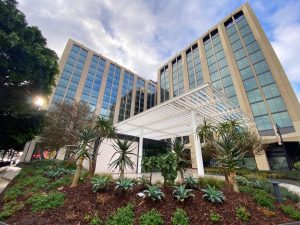 One of the larger leases of the quarter was Adidas' agreement to occupy 107,000 square feet at Brookfield Properties' newly renovated California Market Center in the Los Angeles CBD. After three years in redevelopment, the property is now fully open, offering 1.5 million square feet of office space.
The metro's CBD is among few office submarkets where vacancy posted improvements. The submarket's rate was 15.1 percent in March, down 200 basis points month-over-month. Pacific Western Bank agreed to a long-term lease at Hanjin International Corp.'s Wilshire Grand Center in March, also situated in the CBD.
Other submarkets that recorded better vacancy than the metro's average included San Gabriel Valley—down 50 basis points month-over-month, to 9.8 percent in March—, Wilshire Corridor (up 40 basis points, to 6.6 percent), Burbank (down 10 basis points, to 6.1 percent) and West San Fernando Valley (up 210 basis points, to 12.6 percent).
CommercialEdge covers 8M+ property records in the United States. View the latest CommercialEdge national monthly office report here.