By Barbra Murray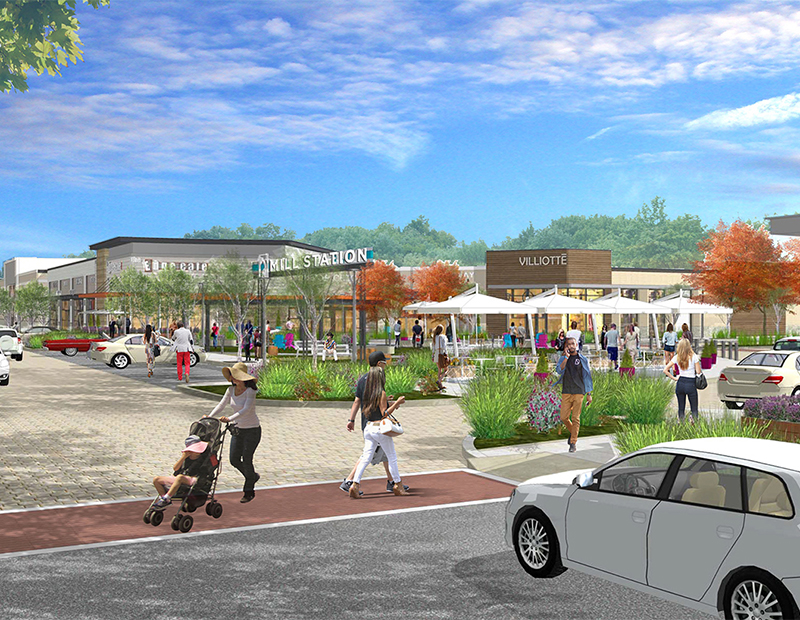 Kimco Realty Corp. REIT revealed plans for the development of Mill Station, a 575,000-square-foot, open-air shopping center where the Owings Mills Mall once stood in suburban Maryland. Kimco will spend $108 million on the project.
The property, located in Owings Mills, Md., was home to the Owings mall from the shopping center's opening in 1986 to its final closing in 2016. The redevelopment of the property has been a long time coming. In 2011, Kimco and then-partner General Growth Properties announced they would redevelop the enclosed shopping center at a cost of $70 million. The project never came to fruition and in 2016, Kimco acquired the remaining 50 percent ownership of the two-level property from General Growth for $11.5 million, and snapped up the parcels owned by J.C. Penney and Macy's for a respective $5.2 million and $7.5 million.
"Kimco is transforming this asset, delivering an impressive mix of national brands, local shops and dining options in a modern, open layout that better reflects the desires of local shoppers and the character of this area," Conor Flynn, CEO of Kimco Realty Corp., said in a prepared statement. Mill Station's retail offerings, which will be linked by walkways to existing office and retail, will include a 148,000-square-foot Costco warehouse club, for starters. A host of other retailers are in discussions with Kimco for leases totaling 350,000 square feet. 
MIXING IT UP
As noted in a recent CBRE retail report, department stores traditionally occupy roughly 50 percent of the gross leasable area in U.S. shopping malls, and apparel & accessories shops account for another 29 percent; however, these two groups are currently among the slowest-growing categories in the retail market. The department store-centric model is finding new competition from properties offering a more balanced combination of shopping, dining and entertainment options.
"A new model of merchandise mix for American malls may be necessary," according to the CBRE report. "There is a growing trend of mall owners buying out department store leases and redeveloping the space into restaurants and specialty stores. Taking advantage of such opportunities to shift the tenant mix toward higher-growth, lower e-commerce penetration spending categories can create room for revenue growth."
Kimco has already demolished the Owings Mills Mall and will kick-off construction activity in early 2018. If all goes as anticipated, Mill Station will make its debut in early 2019.
Photo courtesy of Kimco Realty