By D.C. Stribling, Contributing Editor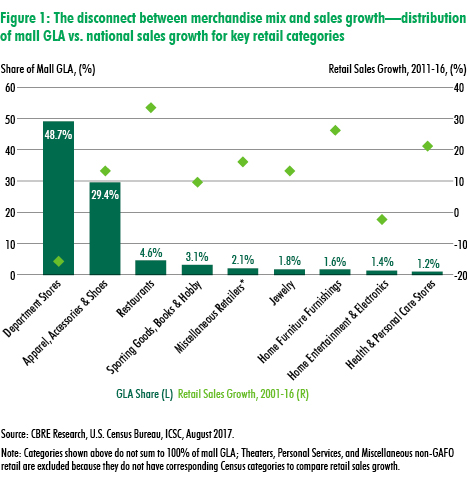 An important solution for the troubles of many U.S. malls is both simple and complicated: Change their merchandise mix. That's the main conclusion of a new report by CBRE, which also noted that any such change is easier said than done.
The report highlights that the two categories occupying the most space in U.S. malls—department stores, at 48.7 percent of leasable area, and apparel, accessories and shoes at 29.4 percent—also posted relatively tepid sales growth from 2011 to 2016.
By contrast, categories with stronger retail-sales growth still account for relatively little occupancy of U.S. malls. That includes restaurants, at only 4.6 percent of leasable area, sporting goods (3.1 percent), home furnishings (1.6 percent) and health and personal care stores (1.2 percent).
Challenges ahead
One challenge for mall owners is that most retailer leases in malls span 10 or more years, and those pacts are challenging to revise or terminate early. Another is that department-store chains often hold veto power over any significant changes proposed for their space or, in some cases, the mall itself. But more recently, struggling retailers are becoming more amenable to efforts to reposition the malls that house them, the report said.
Super-regional malls point in the right direction. They tend to be the largest malls serving wide geographies, have diverse tenant rosters, on average, with significant restaurant and entertainment options. Those super-regional malls have generated stronger growth in net operating income than their smaller, regional peers in recent years, CBRE noted.