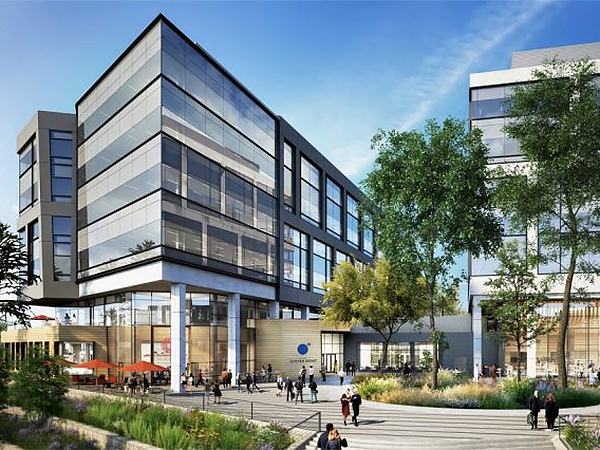 Four months into the construction of the first phase of its Kilroy Oyster Point development in South San Francisco, Calif., Kilroy Realty Corp. has signed its first lease—representing 35 percent of the $600 million project. Biopharmaceutical company Cytokinetics will take approximately 235,000 square feet in office and laboratory space beginning September 2021, when the building is expected to be completed. Gregg Domanico of Kidder Mathews represented the tenant.
The lease has an initial term of 12 years, with two five-year renewal options, according to an 8-K form filed by Cytokinetics with the U.S. Securities and Exchange Commission. Cytokinetics is a publicly traded company founded in 1998 by pioneers in the field of muscle biology. The firm develops potential medicines to improve the health span of people with impaired muscle function diseases such as amyotrophic lateral sclerosis.
---
READ ALSO: Facebook Leases 800 KSF Bay Area Office Project
---
KRC acquired the nearly 40-acre waterfront site in the Oyster Point Boulevard corridor in June 2018 for approximately $300 million. The site is fully entitled for 2.5 million square feet of development. KRC plans to develop, over multiple phases, a laboratory and office complex that will eventually have 11 buildings. Situated at the intersection of Oyster Point and Marina boulevards, along the preferred northern corridor of South San Francisco, the site is adjacent to the three-building Oyster Point Tech Center that KRC acquired in February 2018 for $111 million from New Tower Trust Co.
Phase I of Kilroy Oyster Point will consist of three laboratory and office buildings totaling 630,000 square feet, a plaza with an amphitheater, a restaurant and bar as well as a fitness center. The three buildings will be within walking distance of the ferry terminal and visible from Highway 101. DGA Architects designed this phase of the LEED Gold project, with Hathaway Dinwiddie providing construction services. Ongoing infrastructure work, including all new streets, bay trail improvements, pedestrian lanes, sidewalks and utilities are being built by Teacher Construction.
Growing life science market
South San Francisco has been growing its life science market since 1976, when Genentech began operating in the city. More than 12 million square feet of laboratory, office and manufacturing space exists or is planned in the city, with approximately 200 biotech companies already located in South San Francisco.
In March, Biomed Realty began construction of Phase II of the 1.5 million-square-foot Gateway of Pacific Campus in South San Francisco. It is adding about 430,000 square feet, which will bring total Class A space at the campus to about 1 million square feet. This second phase of development calls for two interconnected eight- and nine-story buildings to be constructed. Also in March, BioMed signed a lease with AbbVie Inc. to take 480,000 square feet in Phase I.
HCP's The Cove at Oyster Point, which began construction on the project's third phase in November 2016, is now fully leased. Global Blood Therapeutics signed a 165,000-square-foot deal. Other life science developers active in the area include Alexandria Real Estate Equities and Phase 3 Real Estate Partners.