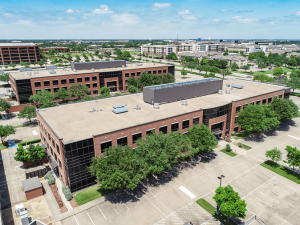 Capital Commercial Investments has acquired Waterview 190, an office campus totaling 230,000 square feet in Dallas. The company purchased the two-building complex in partnership with Contrarian Capital Management from Kohl's Department Stores, according to Collin County records. Colliers worked on behalf of the seller.
The joint venture financed the acquisition with a $34.4 million loan originated by Amherst Capital Management.
Waterview 190 North and South, located along the 190 STEM Corridor, sit on nearly 15 acres at 17655 and 17657 Waterview Parkway. The 1998-built campus has three-story buildings offering 38,000-square-foot floorplates. The property, which includes a fitness center, has a parking ratio of 7 spaces per 1,000 square feet.
The office campus is across the street from the University of Texas at Dallas, some 22 miles northeast of Dallas-Fort Worth International Airport. The property is also less than 5 miles from CityLine, a $2 billion development on more than 200 acres in Richardson, Texas, where KDC plans to develop an additional three office towers encompassing a combined 1.4 million square feet.
The campus' tumultuous past
In 2012, Stream Realty Partners took ownership of the office campus through a distress transaction, since the property was encumbered by a loan in special servicing. Before the acquisition, the single-tenant property lay vacant for two years.
Stream Realty also acquired the adjacent lot of more than 4 acres and created additional parking. The company rebranded and rehabilitated the property, resulting in Kohl's inking a 15-year lease for the entire office complex in 2014.
The Wisconsin-based retail company planned to create more than 1,500 employment options in North Dallas, but in March 2019 decided to close its Waterview 190 customer service center. The since-vacant property is ready to be occupied by a new tenant.
As of August, the office vacancy rate across the Metroplex dropped 50 basis points month-over-month, to 18.9 percent, according to CommercialEdge data. The Dallas-Fort Worth rate continued to be higher than the U.S. average, which clocked in at 15.4 percent in August.