By Scott Baltic, Contributing Editor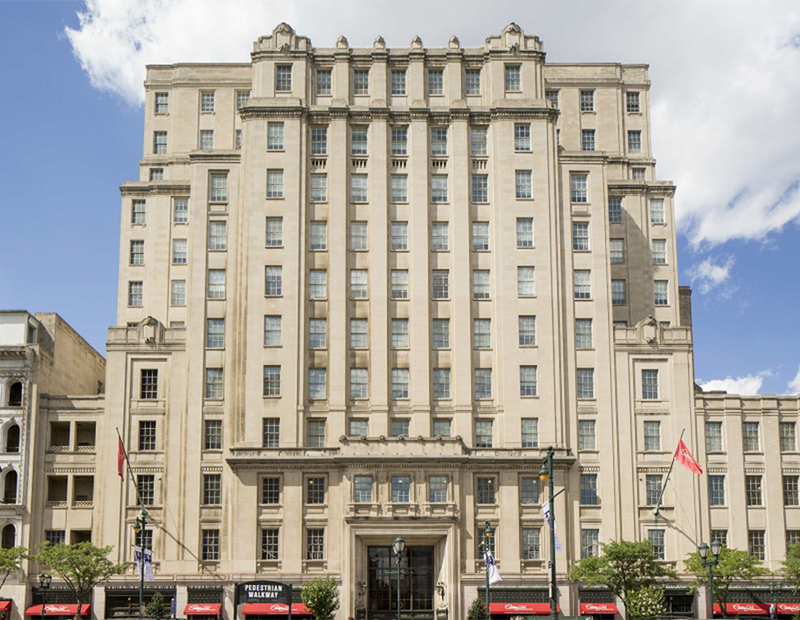 Sometimes you buy a building, sometimes you buy pieces of a building. Whatever works.
A partnership of Taconic Capital Advisors and Cohen Equities, both of New York, has acquired floors three through six of 801 Market St., a 695,130-square-foot, 13-story historic Class B office tower in Philadelphia's Market East submarket. The deal was announced by JLL Capital Markets, which had secured a $96 million financing package for the buyers.
Cohen and Taconic had purchased floors seven through 13 in November 2016, reportedly for about $32 million. The first two floors, along with a subgrade space, are retail space and are owned by a partnership between PREIT and Macerich. PREIT was also the seller in this latest transaction.
PREIT and Macerich are redeveloping the retail space as part of Fashion District Philadelphia, which will span three city blocks once it fully opens, in summer 2018.
801 Market St. provides direct access to regional rail (SEPTA, PATCO and BSL) and the city's bus system and is within walking distance of Independence Hall and the Liberty Bell.
The 1910-vintage structure is also known as the Strawbridge Building and is certified LEED Gold, according to information provided to Commercial Property Executive by Yardi Matrix.
Floors three through six total about 312,000 square feet and are fully occupied by Philadelphia Media Network and the Pennsylvania Department of General Services. In the upper stack, a full floorplate and several small spaces are available for lease.
Stable rent roll, progressive financing
"Given our ownership of the upper office stack, it made perfect sense to acquire the remaining office floors due to the complementary nature of the rent roll profiles (stable versus opportunistic) and the added value in cleaning up the condominium structure," Eric Sitman, who managed the acquisition and refinancing on behalf of Taconic, said in a prepared statement.
The sale transaction was led by Andrew Ioannou and Joshua Schrier of PREIT. Ioannou, PREIT's executive vice president, finance & acquisitions, called the deal "a very complicated transaction for all involved…."
Executive Vice President Adam Schwartz, Managing Directors Aaron Appel and Jonathan Schwartz, and Senior Vice President Chad Orcutt led the JLL team. The senior and mezzanine loan package was provided by Deutsche Bank and Square Mile Capital.
"This was a unique opportunity to provide a progressive package to finance the entire acquisition of the stabilized portion of an asset, while at the same time refinancing the value-add portion," Adam Schwartz said in a prepared statement.
"Typically, from a structuring and feasibility perspective, the acquisition leads and the financing follows," Matt Legge, Cohen's chief investment officer, added. "In this case that was inverted, as the financing structure that our JLL team devised was what kicked the whole process off and compelled us to pursue the transaction in the first place."
Image courtesy of Cohen Equities