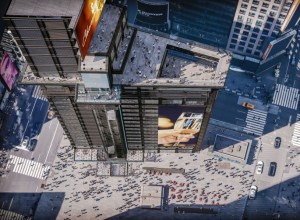 Jamestown will undertake a $500 million redevelopment of One Times Square, the location of the New Year's Eve Ball Drop, the CRE investment and management firm announced on Friday. The project will modernize the historic, 118-year-old building as a 21st-century visitor center for New York City.
As such, One Times Square will feature a new viewing deck and a Times Square museum, along with an augmented reality–virtual reality "brand experience." The redevelopment will also open much of the building's interior to the public for the first time in decades.
---
READ ALSO: Top 5 NYC Office Building Sales
---
Jamestown described the modernized One Times Square as including "a next generation brand experience offering brands the added ability to connect with their customers in Times Square through immersive, technology-enabled activations. The interactive experiences will encompass 12 floors and include digital, virtual, and augmented reality integrations."
The redeveloped building interior is projected to open to the public in the summer of 2024.
The redevelopment will further include improvements to the Times Square Shuttle station, which will include a new stair entrance, canopy and ADA-accessible elevator.
Building as billboard
With an annual pedestrian count of more than 130 million people, in addition to the New Year's Eve extravaganza, One Times Square is well placed as arguably one of the world's most iconic billboards.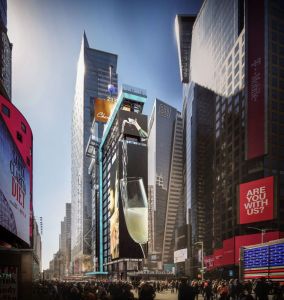 The 26-story building was completed in 1904 at the intersection of 42nd Street, Seventh Avenue and Broadway, then known as Longacre Square, as the headquarters of The New York Times. The newspaper decamped to different offices in 1913, while retaining ownership.
At least since the 1995 purchase of One Times Square by Lehman Brothers for $27.5 million, the building has been almost entirely vacant, except for retail on the lower levels, evidently because of the relatively small amount of potential office space and the tight floorplates.
At 3 Times Square, a/k/a the Thomson Reuters Building, owners Thomson Reuters and Rudin Family Holdings are investing about $25 million to reposition the 30-story, 950,000-square-foot property with an updated facade and amenities.