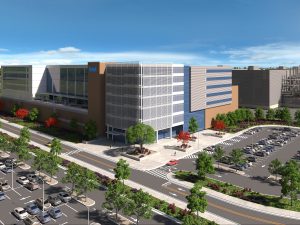 Intel revealed plans on Friday for a massive central Ohio manufacturing campus that will involve an initial $20 billion investment.
Located east of Columbus in Licking County, the factories will be located on a nearly 1,000-acre site with room to accommodate as many as eight semiconductor plants. Construction is on track to begin in late 2022 and the facilities will be ready to begin construction by 2025, Intel said.
The company selected Ohio because of its track record as a manufacturing center, talent pool and infrastructure, said Keyvan Esfarjani, senior vice president of manufacturing, supply chain and operations. In a statement, he compared the development of a campus of the size Intel envisions to creating a small city. With the Ohio project, Intel will establish its first new manufacturing site in 40 years.
Intel's project is the second massive semiconductor plan to emerge this month. Austin, California, Arizona and North Carolina are said to be in the running for a $40 billion chip plant being planned by Micron Technology Inc.
Phase one of the Intel project alone will create 3,000 permanent jobs for the company as well as 7,000 construction jobs, the company estimates. Intel plans to use renewable energy to power the facility, as well as net positive water use and no landfill waste.
Since the manufacturing hub will call for a large pool of talent, Intel will invest $100 million over the next decade to develop programs with the state's institutions of higher learning and the National Science Foundation.
The Ohio project is already serving as a magnet for allied businesses. Four other companies said on Friday that they intended to establish a local presence: Air Products, Applied Materials, LAM Research and Ultra Clean Technology.
At least one federal policy issue will influence the timing of the buildout. Esfarjani cited the importance of funding from the CHIPS Act. In January 2021, the Senate authorized $52 billion improve the U.S.'s competitiveness in the global semiconductor industry. However, the measure has yet to be approved by the House or fully funded.