At the end of 2018, Amazon put Long Island City in the spotlight with its plan to build a 4 million-square-foot campus within the Queens neighborhood and add 25,000 new jobs. Despite the company's decision to pull out just a couple months later, which put to test the neighborhood's future, the area has continued to thrive, according to local experts.
Andrew Barrocas, CEO of brokerage firm MNS, believes Amazon would have accelerated the growth of the neighborhood by five years. On the other hand, Cushman & Wakefield Executive Director Mitch Arkin and Thomas Donovan, partner and vice chairman at B6 Real Estate Advisors, think Long Island City was always on the train of growth–with or without the e-commerce giant.
"Even throughout COVID-19, Long Island City performed and now is fully recovered," said Arkin. "Thousands of units are being built, vacancy is down, and absorption is high for both residential and retail space. Office is recovering but healthy in the neighborhood."
---
READ ALSO: Top Projects That Will Reshape Queens
---
Long before Amazon announced its flagship plans, one of the main catalysts behind Long Island City's growth was The Long Island City Core Rezoning, approved in 2001. Thanks to that legislation, the once-industrial area's blueprint has changed dramatically, with high-end residential buildings replacing vacant warehouses.
"Business owners had to look for space elsewhere," said Donovan. "When my team and I bring warehouses to market, there's usually a fight, because that kind of space is so hard to find now. Roughly 80 percent of the industrial stock is gone."
According to Yardi Matrix data, more than 15,000 residential units came online in the neighborhood throughout the last two decades, with 3,500 units delivered between 2019 and 2022. An additional 4,400 units were under construction as of April 2022, with more than 23,600 units in planned and prospective stages.
The original rezoning reshaped the entire Court Square and Queens Plaza North areas, and some feel too much residential was added with not enough office inventory, Arkin noted, adding that office demand isn't as high as residential demand in the neighborhood.
Projecting the future & growing pains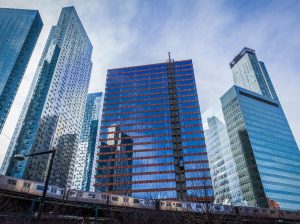 The tepid demand for office space didn't stop developers from adding more than 8.3 million square feet of space to the market between 2002 and 2022, 2.7 million square feet of which was completed after February 2019.
"In 2011, when Jamestown decided to try to adaptively reuse the Falchi Building from light industrial/warehouse to office use, that sparked a march to industrial building renovation on the other side of the Sunnyside Yards that added millions of square feet to the market and even sparked some owners to consider building new product in formerly untested neighborhoods, such as Gantry Point," said Arkin.
Completed in April 2021, Columbia Property Trust's 237,718-square-foot Gantry Point is the redevelopment and expansion of an 87,000-square-foot warehouse into a high-end office property.
The largest office project to come online in recent years was The JACX, a 1.2 million-square-foot development completed by Tishman Speyer in May 2020. Designed by MdeAS Architects, the 68-story creative office development boasts a landscaped park with more than 100 trees and is fully leased by major tenants including Macy's, Bloomingdale's, WeWork and NewYork-Presbyterian.
"On the retail side of things, you can walk down Vernon Boulevard or Jackson Avenue to see what kind of businesses are around. Last year a Trader Joe's opened, and I think that kind of store speaks to how the area has grown and changed over the last thirty years," said Donovan.
Some of the most representative residential projects of Long Island City's growth include 5 Pointz, a 1,122-unit high-rise rental which opened last summer. Located at 22-44 Jackson Ave. in the Hunters Point area, the property sits on the site of a former factory that become famous for its graffitti-covered exterior. The building was eventually demolished in 2014 by developer Jerry Wolkoff.
Another example includes the 802-unit Skyline Tower, the tallest building in Queens. The $700 million condo community has high-end amenities and a dedicated entrance to the Court Square-23rd Street train station.
---
READ ALSO: NYC Market Update: Key Development Takeaways of 2021
---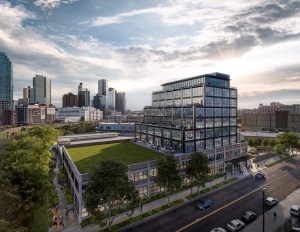 On the other side of the coin, Long Island City's growth has come with its own set of challenges. Arkin highlighted the need for more schools, especially with so many new residential buildings and families coming to live in the area. He also mentioned the need for more public plazas to add outdoor space to the Central Business District, and increased retail support for when office workers get back to the office full-time.
Meanwhile, Abramov thinks that even with Trader Joe's and Target having signed leases, there is a lack of other big box retail and a strain from the lack of parking.
"I think it's important to allow Long Island City to grow but to keep the essence of the neighborhood the same," said Donovan. "Many business owners, real estate owners, and locals have been there for decades. We need to listen to them and hear what they need. We need to keep the streets safe, improve transportation options and keep small businesses in business."
Trends & predictions
With a growing development pipeline and a flurry of leasing activity—such as health-care company Centene Corp.'s 500,000-square-foot lease within the building that Amazon intended to occupy—Long Island City is shaping itself as a city within a city.
Arkin believes the Long Island City office market is very much dependent upon Midtown Manhattan, similar to the way downtown Manhattan used to be. Once pricing in Midtown reaches levels companies find unaffordable, he thinks they will migrate to Long Island City, resulting in more corporate moves.
"We tell prospective buyers that Long Island City is a great area to invest in, but the hold time must be a longer horizon than simply a 5- to 7-year exit," said Arkin. "There will be demand there for quality office space, which has been proven with companies like Macy's, JetBlue, Estee Lauder, Altice and Centene. The area has developed into a fun live-work-play environment and will continue to do so despite setbacks spurred by the pandemic."