By Alexandra Pacurar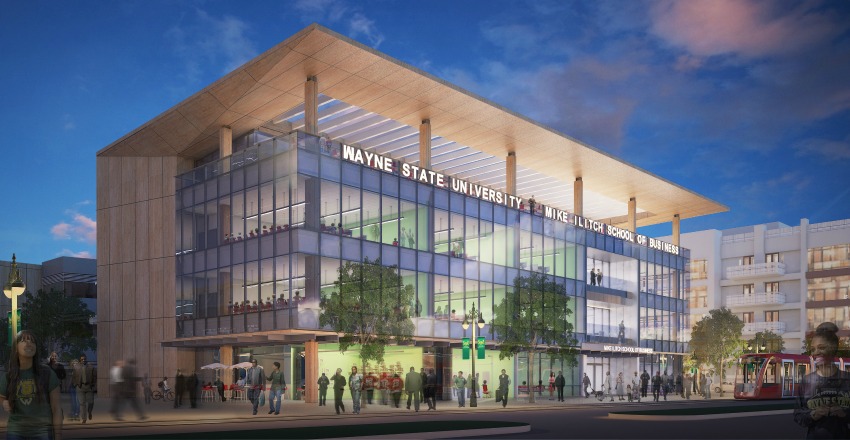 Detroit—The Mike Ilitch School of Business, part of Wayne State University, has broken ground in District Detroit. The sleek, smart new building will complete the string of modern redevelopments on Woodward Avenue. Mike and Marian Ilitch donated $40 million toward the project, which is scheduled for completion in 2018.
"This new home for our business school will create a beautiful and accessible gateway connecting Midtown and downtown Detroit for students, faculty and the community alike. It's a fitting and elegant design for a world-class business school made possible by entrepreneurs who throughout their career have been dedicated to opening up a world of opportunities for the people of Detroit," Roy Wilson, president at Wayne State University, said in a prepared statement.
Detroit-based architectural firm Smith Group JJR created the updated design for the construction, while the Christman-Brinker joint venture, also based in Motor City, serves as construction manager for the project. This all falls under the "Michigan Made, Detroit Built" umbrella covering the District Detroit projects.
The 120,000-square-foot Mike Ilitch School of Business will boast open collaboration spaces, student support facilities, a conference learning center, lab space, classrooms and offices. The development will make full use of its location and feature several innovative street level, sidewalk destinations, such as a full trading floor, an open air classroom, business incubator pop-up and corner café.
The new institution will serve more than 3,000 undergraduate and graduate students and offer flexible teaching and modern spaces. The coursework will include sports and entertainment management.
Michael and Marian Ilitch are prominent entrepreneurs and philanthropists based in southeast Michigan. Their business portfolio includes Little Caesars, the Detroit Red Wings, the Detroit Tigers, Olympia Entertainment, Blue Line Foodservice Distribution and Champion Foods.