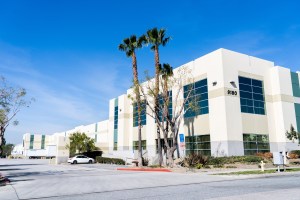 Black Creek Group, now a subsidiary of Ares Management Corp., has paid $24.5 million for The Center Avenue, a Class A, 102,516-square-foot logistics building in Rancho Cucamonga, Calif. The transaction was arranged by Colliers. The brokerage firm represented both the buyer and the seller, the latter being Competition Specialties, according to CommercialEdge.
The industrial asset last changed hands in 2004, when Paragon Capital Corp. sold it to Competition Specialties, the same data provider reveals. The facility was fully occupied at the time of the sale, according to Colliers.
Located at 9180 Center Ave., the single-story concrete distribution building came online in 2004 and offers 30-foot clear heights. The asset includes two suites, an ESFR sprinkler system and sky lights. Covering nearly 4.9 acres, the property includes a 150-foot concrete truck court, as well as 41 grade-level parking spaces.
Colliers Senior Executive Vice President Clyde Stauff along with Vice President Jace Gan brokered the sale.
A busy 2021
In March, Black Creek Group announced plans to develop two industrial facilities in the Inland Empire. The high-profile projects, Etiwanda Commerce Center and Riverside Logistics Center, are set to add 1.7 million square feet of industrial space to the market. Shortly after, in May, Ares Management Corp. and Black Creek Group disclosed plans for the acquisition of the latter by the former. The deal materialized at the beginning of July, when the two companies combined their assets, totaling $29 billion.
Due to the accelerated rise of e-commerce and the steady rise in demand amid land scarcity, the Inland Empire continues to be one of the best-performing—and largest—industrial markets in the U.S. As of June, Inland Empire industrial rents were up 6.2 percent, above the 4.4 percent national average and second only to Los Angeles (6.7 percent) among major U.S. metros, according to a recent CommercialEdge report. Unsurprisingly, the Inland Empire also displays one of the country's tightest vacancy rates, at 1.6 percent as of June.
Meanwhile, the Inland Empire had 16.6 million square feet of industrial space underway across some 90 projects at the end of June. The largest of these is Building 2 of the Ontario Ranch Logistics Center. Owned by REDA and Clarion Partners, the 1.2 million-square-foot development is slated for completion in 2022.