By Corina Stef
Academic publishing, exhibitions and events company Informa PLC signed a 10-year, 59,613-square-foot lease at 605 Third Ave., a premier, Class A Midtown Manhattan office building. The tenant will occupy the entire 20th, 21st and 22nd floors, relocating and consolidating its operations from five different New York City offices. The move is expected to take place in the first quarter of 2018. 
"Informa's presence in the U.S. has steadily expanded over the last five years. Having acquired Penton in late 2016, we have taken the opportunity to bring five of our New York locations together into a single base. 605 Third Ave. represents a modern, high-quality and flexible space, and we are looking forward to creating a new hub for Informa in Midtown that our colleagues can be proud of," Informa Property Strategy Manager Geoff Scott said in a prepared statement.
Multimillion-dollar renovation
The 1.1 million-square-foot building was constructed in 1963, and recently underwent a $25 million renovation conducted by the Rockwell Group. Following the refurbishment, the tower was awarded LEED Gold certification. Amenities include a new, extended building entrance and a modern lobby with custom-designed elements. Additionally, the building features a pair of giant kaleidoscope-like, oversized digital windows displaying computer-generated patterns viewable by both tenants and pedestrians.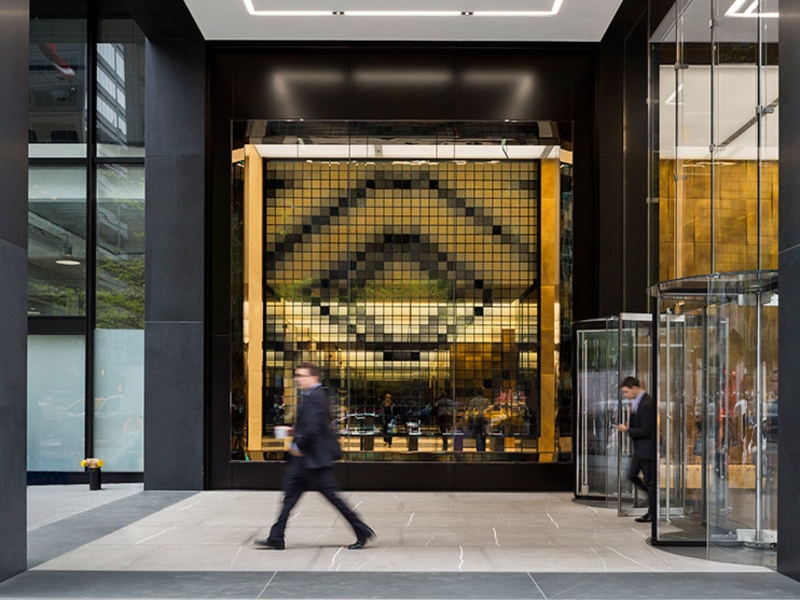 The property is occupied by tenants such as Univision, AECOM, Davidoff Hutcher & Citron LLP, Jones Day, Katsy Korins LLP and the United Nations Population Fund. It is also minutes away from the Grand Central Terminal, the United Nations headquarters, restaurants, bars and hotels.
CBRE's Chris Corrinet, Peter Gamber, Robert Hill and Michael Movshovich represented the tenant in the lease transaction. The landlord, a joint venture between Fisher Brothers and JPMorgan Chase, was represented in-house by Marc Packman and Clark Briffel, accompanied by Cushman & Wakefield's Bruce Mosler, Louis D'Avanzo, Andrew Ross, Michael Baraldi and Maria Travlos.
Images courtesy of Fisher Brothers