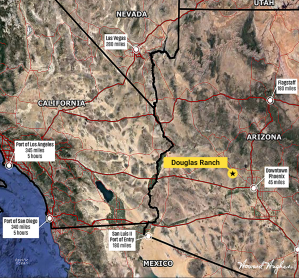 The Howard Hughes Corp. is giving JDM Partners extra time to consider buying back an interest in Douglas Ranch, a 37,000-acre, master-planned community in Buckeye, Ariz.
HHC acquired Douglas Ranch from JDM and El Dorado Holdings in October 2021 in a $600 million transaction that gave JDM a six-month option to re-acquire a stake in the sprawling development in Phoenix's West Valley. The option period, which would have expired on April 16, 2022, has now been extended to June 17, 2022.
Terms of the extended deal between HHC and JDM are primarily the same as the original agreement. JDM can exercise its option to re-purchase up to 50 percent of Douglas Ranch—excluding Trillium, the community's first 3,000-acre village, which JDM and El Dorado co-own—for $270.5 million. Should JDM fail to close on the acquisition of a minimum of 9.24 percent of Douglas Ranch by the new deadline, it will forfeit its $33.8 million deposit, which was placed in escrow under the original agreement.
Douglas Ranch, Arizona's largest master-planned project, will be a veritable town in and of itself, offering every accommodation that residents and businesses require and desire, with 55 million square feet of commercial development at full build-out. Offerings will include office space, industrial space and retail. The commercial segment will also encompass medical, educational and other services.
"Douglas Ranch will be a large-scale, mixed-use small city with a full range of options across all property types that contribute to a vibrant community," David O'Reilly, CEO of The Howard Hughes Corp., told Commercial Property Executive. "Like our other master-planned communities of Summerlin in Nevada and The Woodlands in Texas, Douglas Ranch will attract businesses as they continue to follow the well-educated workforce migrating to low-tax, business-friendly states—and specifically to communities that offer an exceptional quality of life."
Designing in the pandemic era
While HHC is no stranger to master-planned communities, developing what amounts to a new neighborhood in the days of COVID-19 is a unique experience. The company is a major proponent of sustainability and plans for sustainable development and technological advancement to be core concepts at Douglas Ranch. For office users, in particular, design in the age of the pandemic is of acute concern, a fact that is not lost on HHC.

"We are uniquely positioned as a developer to accommodate the evolving needs of companies as they grow. The key to designing commercial space, specifically the office component, is flexibility, as companies today consider everything from a 'hub-and-spoke' office environment to a full-scale campus headquarters," O'Reilly said. And while it's early days yet for Douglas Ranch, the timing may be just right for the project in terms of its office segment, as the long-term outlook for the sector appears bright in Phoenix.
"The fundamentals of a business-friendly environment, along with a diverse workforce, continues to stir interest in Phoenix as one of the nation's most attractive metro areas to relocate and expand," according to a first quarter 2022 report by JLL. "This is evidenced by a recent increase in out-of-state companies looking at Phoenix as a long-term investment to take advantage of the lower costs of doing business and a rapidly growing talent pool." The 168,000 square feet of positive net absorption the Phoenix office market recorded in the first quarter of 2022 marked the first time the market has seen a net quarterly gain since the first quarter of 2020.