Douglas Ranch in Buckeye, Ariz., in Phoenix's West Valley, is now part of The Howard Hughes Corp.'s premier portfolio of master-planned communities. HHC has just acquired the fully entitled, 37,000-acre enclave from JDM Partners and El Dorado Holdings in a transaction valued at approximately $600 million.
Shovel-ready and primed for development, Douglas Ranch will ultimately feature 100,000 homes and 55 million square feet of commercial space. The site fits like a glove with HHC's established goals for its MPC platform.
---
READ ALSO: Howard Hughes Corp. Lands $250M Loan for Trophy Tower
---
"We've said in the past that we strive to be like what we've seen [Irvine Co.'s] Irvine Ranch do in Orange County—90,000 acres, all owned by one owner [who] controls land supply development with a thoughtful master plan that's been executed with a long-term value creation approach, and that's really core to the HHC strategy," David O'Reilly, CEO of The Howard Hughes Corp., said during the company's second quarter 2021 earnings call on Aug. 5.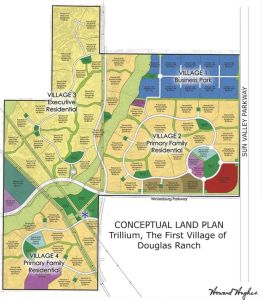 HHC's near-term objective at Douglas Ranch includes landing a regional anchor—namely, a college/school system, logistics hub or large corporate user. Beyond an anchor, a host of other tenants are in HHC's line of sight. "[Douglas Ranch is] uniquely positioned for near-term commercial opportunities given the demand for industrial and fundamentals supporting the single-family rental market," Howard Hughes Corp. notes in its investor presentation on Douglas Ranch.
HHC will launch Douglas Ranch with Trillium, a 3,000-acre village that will be the first of several at the MPC. JDM and El Dorado will serve as joint venture partners with HHC on the development of the inaugural village, which will feature residences, a business park and more than 300 acres of parks.
The big picture
Over the long term at Douglas Ranch, HHC plans to create a commercial segmentation that includes office space, warehouse and logistics space, medical accommodations and ample retail offerings. The developer's overall vision for Douglas Ranch, which will center on sustainable development and technological advancement, is to ultimately establish it as a hub for logistics, regional amenities, education and other services.

Terms of HHC's acquisition of Douglas Ranch give JDM and El Dorado the option to re-purchase 50 percent of Douglas Ranch, excluding Trillium, at a cost of $271 million. The opportunity is valid for the next six months.  HHC relied on Centerview Partners LLP as exclusive financial advisor on the Douglas Ranch transaction.
With the acquisition of Douglas Ranch, HHC now holds the distinction of being the operator of the largest portfolio of large-scale MPCs in the U.S., with a total of eight communities accounting for an aggregate 100,000 acres.