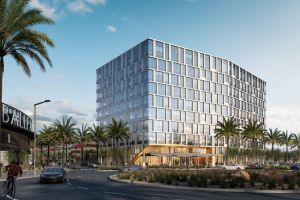 The Howard Hughes Corp. makes a move to enhance the work segment of the live-work-play lifestyle at its 22,500-acre master-planned Summerlin community in suburban Las Vegas with the groundbreaking on 1700 Pavilion, a new 267,000-square-foot, Class A office building.
---
READ ALSO: Top 5 Markets for Office Transactions
---
1700 Pavilion will sprout up on a 3-acre site just south of the Las Vegas Ballpark in walkable downtown Summerlin, which spans 400 acres highlighted by amenities and a natural, open environment.
"Our existing office portfolio in Summerlin is essentially full, Kevin Orrock, president of the Las Vegas Region with The Howard Hughes Corp. told Commercial Property Executive. "This new development gives us the opportunity to meet the growing needs of our existing tenants as well as meet the demand for other tenants that are looking to grow their businesses in the heart of downtown Summerlin."
Designed by Hart Howerton, the premier office building will feature a shared first-floor common area that not only offers conference rooms and gathering spaces but also provides a direct connection to retail and dining options across the street. The 10-story tower will also offer amenities exemplifying Summerlin's focus on healthy and active lifestyles, including bike storage. And in a nod to the post-pandemic environment, the building will feature touchless entry from the KGA Architects-designed garage all the way up to the tenant suites, as well as an enhanced air filtration system.
Living and working
Along with the groundbreaking on 1700 Pavilion, Howard Hughes also began work on the 295-unit Tanager Echo apartment building, marking the start of the second phase of the Tanager luxury multifamily complex in downtown Summerlin.  More than 100,000 residents call Summerlin home.
"Even before the pandemic, the trend to move workplaces closer to home was evident as major corporations across the country began to move away from dense urban cities," Orrock noted.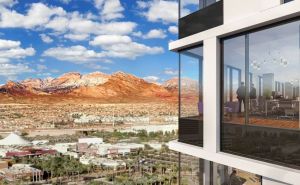 "As life begins to normalize during the post-COVID-19 era, many companies are offering employees hybrid opportunities to work from both home and the office, so office locations that offer urban amenities but within natural settings with expansive open space are even more desirable. And, of key relevance is the fact that many who have worked alone at home for more than a year, are eager to engage again with fellow employees and associates, to socialize, collaborate and build camaraderie."
Howard Hughes is relying on Whiting Turner to serve as general contractor for 1700 Pavilion and has tapped CBRE to oversee leasing activity for the project. If all goes as planned, the office building will reach completion in the third quarter of 2022. The Las Vegas office market is showing signs of recovery, according to a first quarter report by CBRE, and 1700 Pavilion is already garnering attention.
"People's priorities are shifting as we emerge from the pandemic and redefine the nature of an office commute and work environment. The incredible momentum we are seeing in Summerlin, including the already strong interest for 1700 Pavilion, shows that businesses are clearly realizing that they can attract—and most importantly retain—today's top talent if they can provide an amenity-rich, walkable, urban environment integrated into a natural, open setting that encourages an active, outdoor lifestyle." David O'Reilly, CEO, The Howard Hughes Corp., told CPE.