How to Deal With a Skilled Labor Shortage: A Lesson From Miami
The Latin Builders Association created a charter school where students are trained in construction and engineering. LBA President Eric Montes de Oca explains how the project evolved and how the challenge in finding qualified workers impacts smaller companies.
By Alexandra Pacurar
The nation's major markets are still seeing a massive wave of new developments and a slowdown is not in the books for 2018. In fact, 57 percent of contractors expect to increase hiring in the next few months, according to the latest survey on commercial construction made by USG Corp. and the U.S. Chamber of Commerce. Roughly the same percentage reported challenges in finding skilled workers in the last quarter of 2017. The ratio is even higher when it comes to smaller companies. The report shows that 67 percent of contractors with revenues under $10 million face this challenge.
The Latin Builders Association's (LBA) Construction and Business Management Academy High School in Miami opened its doors in 2012 as part of a proactive solution to the labor shortage. The strategy also involves the Council for Educational Change, a nonprofit organization in Florida that partners business executives with school principals to hire graduate college- and/or career-ready students.
LBA President Eric Montes de Oca, also vice president & partner at Grycon (Fort Lauderdale-based general contracting and construction management firm) as well as active board member of the council, discussed the challenge and how commercial property executives can manage it successfully.
Tell us about the LBA charter school. How did this initiative come about?
Montes de Oca: The LBA is one of South Florida's largest trade organizations, consisting of builders, developers, suppliers, architects, engineers and more. Around 2011, the organization decided to make a mark in the South Florida community while advancing the needs of the construction industry, which often faces a shortage of trained tradesmen. So, in 2012, we opened the LBA Construction and Business Management Charter High School. This was a revolutionary move. It was the first time that a business association had partnered with Miami-Dade County Public Schools to open and operate a district-managed charter academy. The school curriculum focuses on construction management, marketing and business subjects, with a strong emphasis on technology.
The charter school offers high school students the opportunity to earn a diploma, industry certifications, college credits and even start their own business. The goal is to prepare students to be qualified to transition into high-demand occupations in the construction industry and related professions. The LBA's 750 members also provide students with mentorships and internships offering real-world experience.

What were the challenges in opening the school?
Montes de Oca: The main challenge was that the concept was completely new. We had to create the blueprint and convince others to buy into our vision. Within a year, we gained the support of Miami-Dade School Board members, the superintendent, state and local elected officials and parents who enrolled their children in our school. Another important factor is that LBA members are professionals who believe in the transformative power of education, but realize that we are not in the business of education. So, it was key to bring the Council for Educational Change onboard, a nonprofit organization that focuses on strengthening a school's leadership team to offer the best education possible to the students.
What was the Council for Educational Change's role in this story?
Montes de Oca: In addition to providing a $50,000 matching grant, the Council provided an educational coach, advocacy programs and the support necessary to develop the best possible leadership team. School leadership accounts for nearly 40 percent of its success. The Council helped grow the school and improve the quality of education. They helped us realize the LBA's vision for the school.
Tell us about the results so far.
Montes de Oca: The results have been very positive. The school, which runs independently from the LBA, has seen its enrollment numbers more than double since opening its doors in 2012. The quality of education continues to improve and many of the school's recent graduates have been hired by members of the LBA. It is not unusual for builders, developers, manufacturers, suppliers and other LBA members to hire the students who complete the internship programs at the school.
How serious is the skilled labor shortage? What can you tell us about this issue?
Montes de Oca: This is the construction industry's biggest challenge. It is very important to be proactive and create solutions to this problem because, in our industry, the greatest resource is our people. So, it is a serious problem when the industry lacks available trained tradesmen such as plumbers, roofers, electricians and other mechanical workers. This labor shortage hurts a builder's bottom line. Often, we can't take on new jobs because our skilled workers are tied up in current jobs and subcontractors are unable to find more. South Florida, unlike other regions, can't effectively hire tradesmen from other states because the learning curve is too steep. South Florida has a building code that is unique to our hurricane-prone region, so it pays off to help develop our local talent, including our high schoolers.
Does this affect smaller companies, smaller markets?
Montes de Oca: The labor shortage affects all of us. The greatest resource a construction company has is its manpower. Bigger companies may be able to pay more as a recruiting incentive but, at the end of the day, the more we pay our tradesmen, the more we will need to charge client developers, who in turn, will pass that cost on to the end-users. How much more can you charge before your fees are no longer competitive?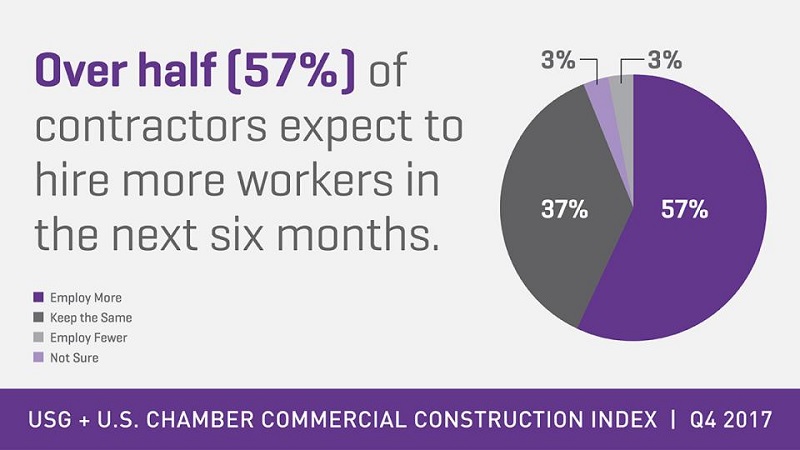 What do you advise other commercial property executives when it comes to finding skilled employees?
Montes de Oca: Be proactive and creative. Envision schools as a resource that can prepare your future workforce. If you can start a charter school, partner up with school principals to develop in-school training programs or similar initiatives. That's where the Council for Educational Change excels in Florida. The Council partners school principals with business executives to strengthen the school leadership team and help principals graduate college or career ready students. In the short-term, my advice is to attend trade shows, university career days and job fairs and develop programs that offer internship opportunities. Also, focus on the culture of your company and how your employees are treated. If a company has the reputation of being a great employer, skilled workers will choose you over your competitors.
How do you see this issue going forward? What do you expect from 2018?
Montes de Oca: We will continue to have a labor shortage in the new year. I don't see that challenge getting better. Even if construction slows down, the trained tradesmen will continue to be on high demand.
Do you think the pace of real estate development will slow down in 2018?
Montes de Oca: Construction of condos and multifamily projects may slow down in 2018, but the commercial real estate sector will continue to experience a construction boom. In South Florida, our company anticipates a busy year building properties for medical, pharmaceutical, institutional and other users.
Images courtesy of Grycon and the U.S. Chamber of Commerce