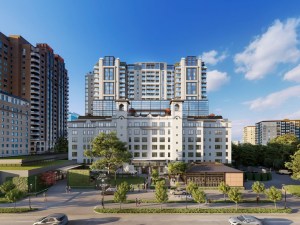 Hines, and its partners Mitsui Fudosan America and McNair Interests, have started construction on a nearly 3.4-acre mixed-use development in Dallas that features a historic centerpiece. The partnership plans to complete the Maple Terrace project by the third quarter of 2023.
---
READ ALSO: Spotlight on Arizona's 1st Cross-Laminated Timber Office Project
---
Located in Dallas' Uptown neighborhood, the mixed-use development will offer 157,000 square feet of office space, up to 12,000 square feet of street-facing restaurant space and a 22-story residential tower. Hines tapped Dallas-based 5G Studio Collaborative and GFF as architects, while Rottet Studio was tasked with the interior design of the office, residential and amenity spaces. Hines previously worked with 5G Studio Collaborative for a 16-story office building in Dallas' Deep Ellum neighborhood.
The office portion of the project, named The Offices at Maple Terrace, will be built with ceilings as high as 17 feet, an open-air rooftop lounge and terrace, a nine-story glass curtain and a 9,000-square-foot urban garden. The offices' amenities will include a lobby lounge, library bar, fitness center, boardroom, golf simulator and valet parking.
Maple Terrace has already attracted its first tenant for the restaurant space. The modern steakhouse restaurant Maple & Ash leased part of the space for its Texas flagship location. According to Hines, there are also plans for an additional restaurant. The Maple Terrace project will also include a GFF-designed 22-story luxury community that will offer 345 units ranging in size from 601 to 2,879 square feet.
Preserving Bossom's design
The original Maple Terrace structure was a residential building designed by popular English architect Sir Alfred Bossom. Bossom wanted to create Dallas' first luxury high-rise residential tower and when completed in 1925, the property attracted many celebrities throughout the years, including Judy Garland, Dean Martin, Elvis Presley and Liza Minnelli.
As part of the mixed-use project, the historic seven-story building will be restored by 5G Studio Collaborative and also serve as the centerpiece for the new Maple Terrace. The project's office portion will also draw from Bossom's intended exterior design, which will be combined with modern elements. Ben Brewer, Hines managing director, said in prepared remarks that the project reimagines the Dallas landmark by combining its timeless architecture with modern design.