By Barbra Murray, Contributing Editor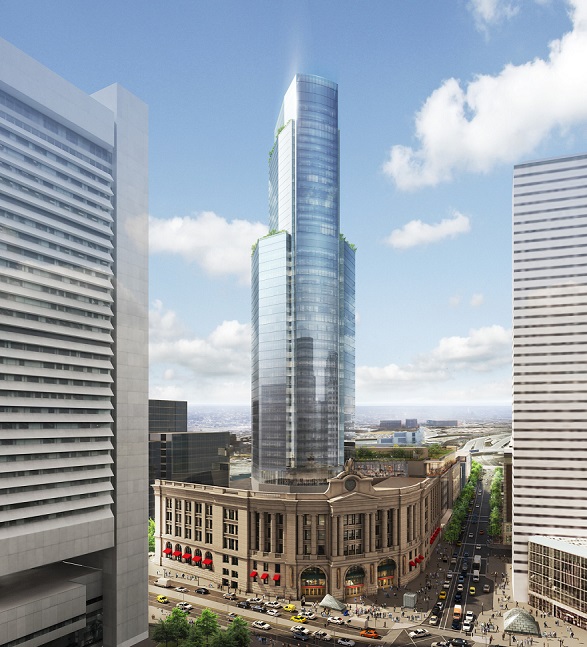 Boston—Hines has turned a corner on the long-awaited plans for the redevelopment of Boston's South Station Transportation Center, and it has China to thank for it. The global real estate firm recently formed a new partnership with Shenzen, China-based Gemdale Properties & Investment Corp. Ltd., and together they will take on the first phase of the South Station endeavor: a mixed-use tower that will sprout up right from the transportation destination and carry the title of the tallest building in the city's Financial District.
The initial phase of the Hines/Gemdale PI project will yield a Pelli Clarke Pelli Architects-designed, 51-story tower with 26 stories of premier office space rising above the ninth floor and condominium residences on the top 16 floors.
In a prepared statement, Michael Krupa, president of Gemdale USA, describes the undertaking as "an important and well-located project in a city which is exhibiting some of the strongest office and residential condominium market fundamentals in the U.S." It's all in the numbers. Boston recorded a whopping 30 percent year-over-year increase in condo sales in March, according to a report by Charlesgate Realty. And all is quite well in the Financial District office market, which has experienced 1.3 million square feet of positive absorption since the beginning of 2014, per a report by Transwestern.
Hines and Gemdale will have their hands full in this initial stage of the South Station redevelopment. The partners will also build a 530-space parking facility, and expand South Station's bustling 20-year-old bus terminal, increasing its capacity by 50 percent. The century-plus-old South Station, officially known as the Michael S. Dukakis Transportation Center, has evolved into a crucial multimodal transportation hub for metropolitan Boston, and has been targeted for comprehensive redevelopment since the 1970s, so the Hines/Gemdale PI project has been a long time coming.
There's something about U.S. commercial real estate. Gemdale PI is among a bevy of Chinese investment entities—both real estate and non-real estate related—that have taken quite a shine to the various sectors of the U.S. commercial real estate market over the last few years. Major transactions include last year's $4.5 billion acquisition of Industrial Income Trust's U.S. logistics portfolio by a GLP-led group that included China Life. And Anbang Insurance Group Co.'s recent activities have certainly turned heads. The company completed the $2 billion acquisition of Manhattan's legendary Waldorf-Astoria Hotel in 2015 and earlier this year, entered into an agreement to acquire Strategic Hotels & Resorts for $6.5 billion.