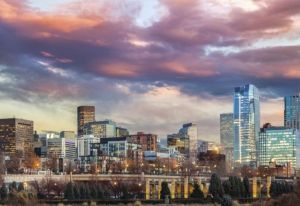 Hines and partner EnviroFinance Group have acquired a 60-acre site in central Denver, where they will build Quantum 56, a Class A industrial and logistics park with approximately 860,000 square feet of space across six buildings.
---
READ ALSO: Mapletree Spends $3B Boosting Logistics Portfolio
---
Construction will begin on Phase One in the first quarter of 2023 when they will break ground on the initial three buildings totaling 581,250 square feet of warehouse space. The buildings will have both cross dock and rear load configurations.
Timing for construction of the final phase, which will also have three buildings, will be driven by market demand, according to Hines. The project will be the newest large, modern-format park in the Central submarket of Denver. It will accommodate tenants seeking a range of uses, from 20,000-square-foot configurations for office warehouse and showroom space to larger areas of up to 350,000 square feet for firms seeking infill, last-mile delivery locations.
Site details
The property near the northwest corner of 56th Avenue and Interstate-25 was purchased from Koppers Inc., a wholly owned subsidiary of Pittsburgh-based Koppers Holdings Inc. Located near Denver's central business district, the site is also in close proximity to the Denver International Airport. Koppers operated a wood treatment facility at the site where it treated crossties and utility poles with creosote from 1923 until August 2020. Koppers Holdings closed the plant as part of a consolidation and moved Denver production activities to a facility in North Little Rock, Ark.
Koppers Inc. announced the closing of the sale Wednesday to an affiliate of Hines and EnviroFinance Group, a Denver-based brownfield redeveloper. Koppers said it had completed cleaning, decommissioning and demolishing the wood-treating operations in early 2021. While the company did not release full details on the sale, a company official noted Koppers had achieved estimated cash proceeds of $30 million.
Hines declined to release a price tag for the acquisition and redevelopment. The international real estate firm also would not address any environmental cleanup questions about the site or whether the partners would need local, state or federal approvals to build there.
Cameron Bertron, senior vice president at EnviroFinance Group, said in a prepared statement the company's development partnership with Hines "creates an ideal match to transform this site into a top tier development in a one-of-a-kind location."
Hines Director Courtney Schneider said in prepared remarks Quantum 56 will be an ideal complement to the Hines Denver footprint and will be a new benchmark of quality for infill, core logistics development.
In May, Hines established a strategic partnership with L.C. Fulenwider Inc. to develop Denali Logistics Park at Box Elder, a 3 million-square-foot industrial complex in Denver's Airport submarket in Aurora, Colo. Denali Logistics Park will occupy 216 acres at the intersection of Denali Street and 64th Avenue within Box Elder, Fulenwider's larger mixed-used development. The industrial park will have buildings of various sizes and configurations, including build-to-suit opportunities. Schneider told Commercial Property Executive in May that strong demand for premier industrial space in the Denver market was expected to continue beyond the pandemic.
Hines has selected Mitch Zatz, Jason White and Carmon Hicks of JLL to serve as leasing agents for Quantum 56.