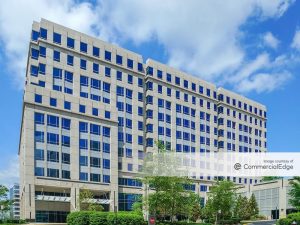 Hilton has decided to maintain its approximately 200,000-square-foot global headquarters at Tysons Park Place II, a 320,000-square-foot office tower in McLean, Va. The hotel giant will reimagine its space within the suburban Washington, D.C., building, which is part of B. F. Saul Co.'s portfolio of properties, with the goal of accommodating 350 new hires over the next five years.
Hilton has not expounded on its plans for reimagining its headquarters at Park Place beyond noting that it will submit the office to significant upgrades that will incorporate new technologies as well as render the space even more conducive to collaboration.
---
READ ALSO: Office Leasing Strategies for the New Landscape
---
Developed by B. F. Saul and designed by Leo A. Daly, Park Place II first opened its doors in 2008. Hilton decided to make the 11-story tower at 7930 Jones Branch Drive its home base in 2009, when it relocated its headquarters from Beverly Hills, Calif., to a 118,000-square-foot space in the building.
Initially, Hilton inked a 10-year lease with B. F. Saul with the option for renewals and expansions, and the company has availed itself of those options over the years. In 2019, Hilton expanded its occupancy by nearly 33,000 square feet, bringing its headquarters space in the building up to its current level.
Courting of big business
Hilton's presence in Fairfax County has had a positive, far-reaching impact, and officials from the local to the state level made their appreciation known by making moves to ensure that, particularly amid the currently challenging office environment, the hospitality company would not move its headquarters elsewhere.
The Fairfax County Economic Development Authority and Virginia Economic Development Partnership joined forces to retain Hilton's business with incentives, and the governor was in on the effort as well. With the approval of Virginia Governor Glenn Youngkin, Hilton received $5 million from the Virginia Economic Development Incentive Grant and an additional $1 million from Commonwealth's Opportunity Fund.
In a prepared statement, Governor Youngkin said Virginia is America's hometown for corporate headquarters. He pointed to the state's numerous attributes—including strategic location, diverse talent and stable business climate—that continue to serve as a magnet for businesses to set up their center of operations.
Recent wins for Virginia include consulting firm Guidehouse, which selected a 75,000-square-foot space at 1676 International Drive in the Tysons area in 2021, after considering locations in Maryland and Washington, D.C. Also in 2021, StarKist Co. announced it would relocate its corporate and administrative headquarters operations from Pittsburgh to a 24,000-square-foot space at 1875 Explorer St. in Reston.