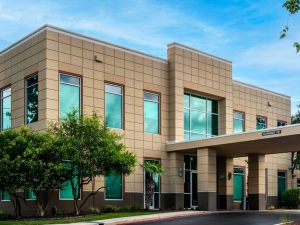 Healthcare Realty has acquired Sonterra Medical Park, a three-building, 117,597-square-foot medical office campus in San Antonio that was 93 percent leased at the time of closing. Stream Realty Partners sold the Class A asset after only 2 years of ownership, with the assistance of Cushman & Wakefield.
Located at 155, 225 and 255 E. Sonterra Blvd., the property is near North Central Baptist Hospital and Methodist Hospital Stone Oak. The medical campus came online in three phases, between 2002 and 2004, according to CommercialEdge information. The two-story buildings are leased to a mix of tenants representing various medical specialties including oncology, radiology and orthopedics, among others.
The 10-acre campus is roughly 17 miles north of downtown San Antonio, just north of Loop 1604. The location is also 1 mile west of another Healthcare Realty property, a 116,838-square-foot medical office building the firm developed in 2008, known as Sonterra Medical Park Building IV.
According to CommercialEdge data, Healthcare Realty currently owns more than 560,000 square feet of medical office space across five assets. The largest one is Medical Center Towers I & II, a two-building, 195,000-square-foot property that the REIT purchased in 2003.
Cushman & Wakefield participation
The deal marks Cushman & Wakefield's third involvement with Sonterra Medical Park. The brokerage firm had also arranged Stream's acquisition of the asset from CPS Energy in October 2019.
In the current assignment, Travis Ives and Gino Lollio of the firm's Healthcare Capital Markets Team worked together with Todd Mills, Carrie Caesar and Hunter Mills of the Central Texas Capital Markets Team. Ives and Lollio were also instrumental in Cawley Partners' disposition of a 101,608-square-foot medical office building in Plano, Texas, in early December.