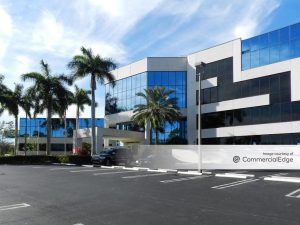 MDNow, a Florida urgent care provider, is relocating its headquarters from West Palm Beach, Fla., to 4200-4400 Northcorp Parkway, a Class A, 115,000-square-foot office building in Palm Beach Gardens, Fla.
MDNow has signed a 10-year, 18,648-square-foot lease with landlords Alchemy-ABR Investment Partners and Breakers Capital Partners, for the fourth floor. Other tenants in the building include Olympus Insurance, Garden of Life and Gehring Group.
Greater Miami's office vacancy rate was 13.1 percent at the end of the second quartee, while the average listing rate increased a solid 8.8 percent year-over-year as of June, with South Florida continuing to display healthy fundamentals.
Alchemy-ABR Investment Partners acquired the building in 2016, for $30 million, and the property is subject to a $25.4 million loan, originated by BankUnited, according to CommercialEdge data. The owner plans to upgrade the building, including lobby renovations. Originally completed in 1996, the property was renovated in 2013, the same data provider shows. The four-story, two-building property is located on 6.2 acres and features controlled access, a fitness center and 329 parking spaces, with a ratio of 2.9 spots per 1,000 square feet.
The office building is located in the heart of Palm Beach Gardens, close to the intersection of PGA Boulevard and Interstate 95, roughly 12 miles from West Palm Beach. Tenants have access to several amenities in the area, including restaurants and parks.
MDNow was represented by Trinity Commercial Group and Alchemy-ABR Investment Partners by Managing Director Anthony Librizzi of Cushman & Wakefield.