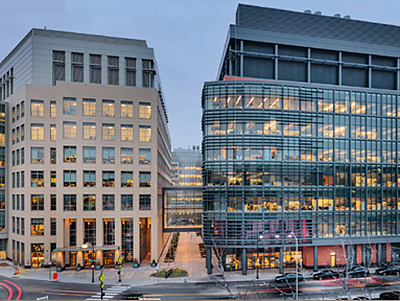 Harrison Street has acquired Osborn Triangle, a three-building, 676,917-square-foot office and laboratory complex in the East Cambridge/Kendall Square neighborhood of Cambridge, Mass. The transaction's dollar amount was not disclosed, but The Boston Globe reported that the deal was worth about $1.1 billion. And that didn't even include the land.
The seller was a subsidiary of the Massachusetts Institute of Technology. Harrison Street partnered with Bulfinch Cos. Inc., a Boston-based private CRE firm and a subsidiary of MIT, which retained a partial interest in the property. Under the arrangement, MIT will retain long-term ownership of the land. In its own announcement on the deal, MIT stated that Harrison Street is the lead investor and that Bulfinch and MIT retain a minority interest.
An MIT official noted that the university has used ground leases multiple times in the past. Capital freed up by these transactions has enabled MIT to pursue other projects, such as the $750 million, 1.7 million-square-foot redevelopment of the 14-acre Volpe National Transportation Systems Center site in Kendall Square. MIT intends to build a new federal building on the site and, in return, will take title to the rest of the site for its own use.
Directly adjacent to the MIT campus, Osborn Triangle encompasses three buildings—610 Main St. North, 1 Portland St. and 700 Main St.—plus a 650-space parking garage. Street-level retail includes three restaurants and a salon. The complex is fully leased, primarily to three anchor tenants: Pfizer Inc., Novartis International AG and LabCentral, an incubator for life sciences and biotech startups.
Tighter than tight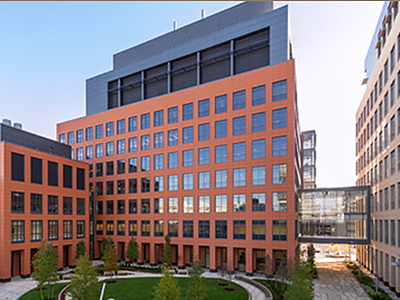 Office and lab vacancy rates in Cambridge are "incredibly low" and asking rents are rising steadily, according to a recent report from Lincoln Property Co.'s Boston office. Total office space availability is 10.3 percent on an inventory of 11.2 million square feet and lab space vacancy is only 0.5 percent on an inventory of just under 14.7 million square feet. Average rents are $75.9 for office space and $83.5 triple net for lab space.
In response, more than 1 million square feet of spec life science space is underway for delivery between this year and 2021. Lincoln notes that "most experts agree that the majority of this space will deliver to market 100 percent pre-leased."
Earlier this year, Harrison Street partnered with The Hampshire Cos. to develop self storage facilities along the East Coast from Washington, D.C., to Boston. The joint venture is expected to announce multiple self storage development projects along the major transportation corridor of Interstate 95.