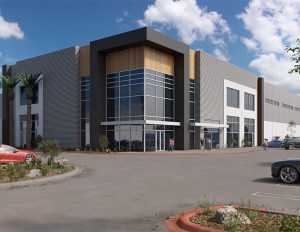 Goodman Group has begun development of a four-building, 1.5 million-square-foot logistics campus in Orange County, Calif.
---
READ ALSO: Post-Pandemic Comeback Predicted for CRE
---
Goodman Logistics Center Fullerton, with an address of 2099 Orangethorpe Ave. (for Building 2), Fullerton, is scheduled to open in the spring of 2022.
The 65-acre site is 30 minutes from Los Angeles International Airport, 20 minutes from the Port of Los Angeles and the Port of Long Beach, and less than one mile from the 91 and 57 freeways. Goodman stated that the location enables same-day delivery to more than 20 million consumers.
The three largest buildings within the campus will measure 336,968, 538,226 and 487,036 square feet, and will have 40-clear heights, while the smallest, of 173,825 square feet, will have a 36-foot clear height. All will feature 185-foot truck courts, cross-dock configuration and generous trailer parking, and all will support advanced warehousing automation systems.
Goodman has committed to recycling 95 percent of the materials from the existing building on the site (a manufacturing plant operated by a large paper-products company since 1956) to be used as part of the new construction.
Goodman Logistics Center Fullerton is intended to be LEED certified and will include such sustainable design features as electric vehicle charging stations, motion-activated lighting and a solar-ready roofing system.
Seizing opportunity
Early last year, Goodman Group and the Canada Pension Plan Investment Board expanded their U.S. logistics partnership, committing an additional $2.5 billion of equity, for a total equity commitment of $5.5 billion.
The Los Angeles industrial space market has remained resilient, driven by falling unemployment in Los Angeles County and the strongest February on record for the area's ports, according to a first-quarter report from Kidder Mathews. Industrial demand has continued to exceed supply, leading to predictions of annual rent growth of about 5 to 6 percent.
The Mid-Cities region has an average total vacancy of just 2.8 percent, on an inventory of 115.9 million square feet, also according to Kidder Mathews.