By IvyLee Rosario
Flushing, Queens, is taking mixed-use to a new level. Inspired by a traditional Chinese dissection puzzle consisting of seven flat pieces called tans put together to form shapes, the Tangram development will incorporate multifamily, office, retail and hotel, as well as food and beverage options, all under one roof. The concept comes from a collaboration between F&T Group and SCG America. Margulies Hoelzli Architecture designed the exterior, while BHDM Design is working on the retail portion and JG Neukomm is in charge of residential interiors.
"There was a waiting list of people looking for residential and commercial condos, so we decided to create that," said Helen Lee, executive vice president of F&T Group. "We are also aiming to introduce a large retail portion because Flushing lacks an epicenter and we wanted to provide that to the community. This project is an ode to the community, which has a deep sense of culture and is a very dynamic market."
Retail's redemption
The 1.2 million-square-foot project broke ground in the summer of 2015. Development began with three levels of underground parking totaling 1,100 spaces and soon moved to the three-story retail component—the top floor was leased last year to CJ CGV, the world's fifth-largest global movie theater chain. The South Korean company signed for 34,000 square feet and is planning a multi-sensory theater dubbed "Cultureplex."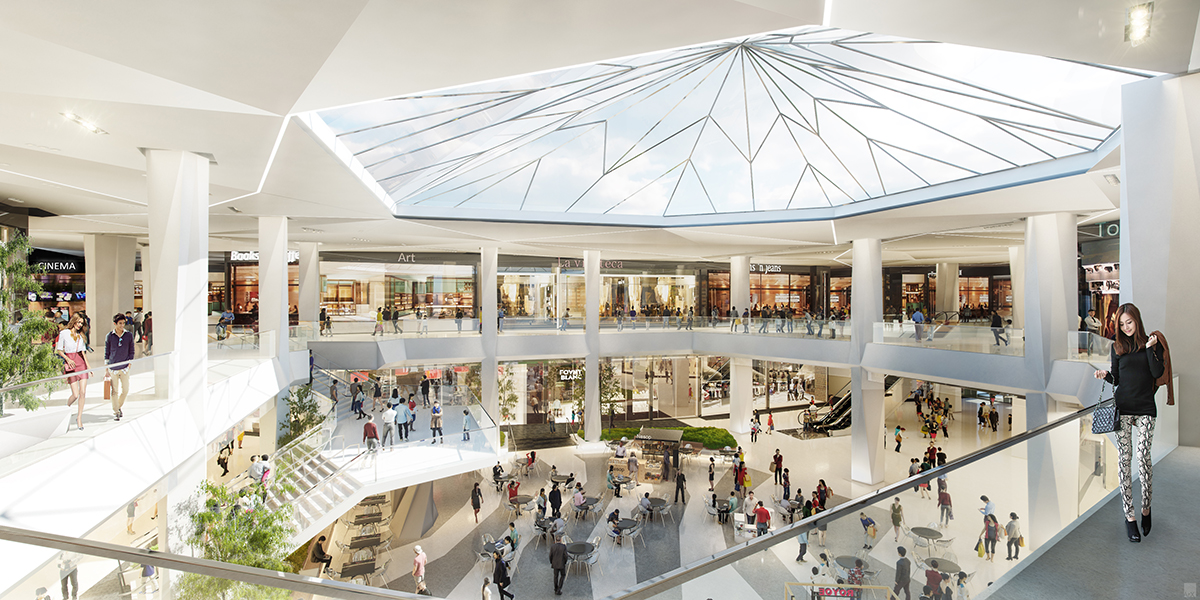 "The biggest goal here is to become a destination within the community, almost like a new town center. Retail is in a challenging place right now, and I think the best way we as designers can affect and add to the retail experience is to create experiences that people can only get there," explained Dan Mazzarini, owner of BHDM Design. "We want to create something distinctive enough that we are attracting people from not only Flushing but a much larger radius around, to see what we've done almost as a case study of the interest that will be there and the experiences they'll have."
The retail portion of Tangram is the podium level, linking all other parts of the project. It features a folded faceted architecture that includes columns, a grand piazza at the center and a 50-foot skylight across the ceiling overhead, which will total 125,000 square feet. There will be four entrances off of four different avenues to offer an indoor-outdoor feel, opening up to the center courtyard that provides a 360-degree view of the vendors. The center courtyard is flexible, so it will be plumbed and wired for individual vendors' sales positions. The retail section of Tangram is scheduled for completion by the third quarter of 2019.
Office and hospitality
Tangram Tower is slated to feature a sweeping glass curtain-wall facade, which will allow abundant natural light to enter the office spaces, sculpting the ceiling highlights. The office building is set to offer a 24/7 staffed lobby concierge with full-time porters and an on-site superintendent.
The 85,000-square-foot Tangram Tower will comprise 48 office condominiums across 12 stories, 24 restrooms, 12-foot floor-to-ceiling heights, valet parking and direct access to the adjacent retail. The for-sale space will be split evenly between medical office and professional office space. The property will be delivered as core and shell and will be fully customizable, with floorplans ranging from 1,360 to 3,070 square feet.
Tangram's 207-key hotel will offer access to a health club and will be connected to the first residential building. The two components will share amenities including a gym, salt room and lap pool, tennis court, as well as opportunity for outdoor lounges and areas for cabanas.
The Tangram lifestyle
Tangram's residential component will come in the form of Tangram House South, scheduled for delivery in February 2019, and Tangram House West, set for completion by spring 2020. Sales for phase one—which will encompass 159 condominiums and 33 penthouses—were launched last November; more than 90 percent of units have already been sold. Sales for phase two are due to start next year and will include an additional 132 residences.
"We were trying to avoid doing an ivory tower in the middle of Flushing, but something that would be a complement to its dynamic, urban feel. The Tangram interior and the units were looking to be a complement to that in the sense that they were very serene and looking at it as an interior landscape," noted Jean-Gabriel Neukomm, principal of JG Neukomm.
Interior features will include wood detailing and paneling, a lobby screen, abstract and custom-made furniture, and clean lines with classic stone. The development combines traditional studio, one-, two- and three-bedroom apartments, as well as penthouse floorplans. The studios will offer custom millwork, screens with wood slabs, open spaces, and custom furniture including a desk and pull-out table, as well as lighting and wallpaper. The second-floor residential lobby will introduce access to an interior garden, with views of the center pavilion and landscaping.
You'll find more on this topic in the CPE-MHN Mid-Year Update 2018.