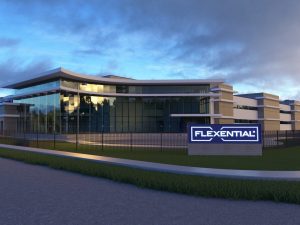 A new data center will soon rise in Portland, Ore.'s rapidly growing market. Flexential, one of the region's largest providers, has announced the construction of a fourth facility at its Hillsboro campus, bringing an additional 54 megawatts of IT capacity to the market.
Citing increasing customer demand, Flexential acquired a newly constructed building in which it will develop its data center. Upon full buildout, the data hall will measure 138,000 square feet. A fifth facility is also planned on the same parcel, and is currently in the design process.
The data center operator-developer is aiming to meet sustainability metrics such as power usage effectiveness (PUE) of 1.4 and water usage effectiveness (WUE) of zero, as per the company's Green Finance Framework. The new development will benefit from a Portland General Electric substation that was constructed on the campus.
Flexential will build its new data center adjacent to its existing Hillsboro2 facility, which is a critical interconnection point for North America, as it is the U.S. point of presence for the New Cross Pacific and Hawaiki transpacific subsea cables—providing direct, low-latency connectivity between the U.S. and the Asia-Pacific region. Apart from these two direct connections, Hillsboro is also the landing point for four other subsea cables.
The new development will also expand the company's FlexAnywhere service platform, offering hybrid IT solutions, such as hosted private cloud, multi-tenant private cloud, managed private cloud and disaster recovery-as-a-service (DRAAS). Flexential's fourth data center will offer densities of up to 1,500 watts per square foot, on par with its existing Hillsboro facilities. Flexential will offer connections to major hyperscale cloud providers, such as Amazon Web Services, Microsoft Azure and Google.
"Data gravity is one of the main drivers for expansion," Ryan Mallory, chief operating officer at Flexential, told CPE. "The shift from on-premises enterprise data centers to platform providers that enable their customers to look, act and purchase the largest Tier 1 entities is a key driver. This enables the consumption of hybrid cloud, a full 'as-a-service' product suite, along with network services, with this trend bound to continue for the foreseeable future."
National Growth
Flexential is on track to exceed its 2022 goal of delivering 33 megawatts of new sustainable data center capacity across its markets. The company is currently targeting regions where it is a market leader, such as Denver and Atlanta, besides Hillsboro.
Last year, the company partnered for a second time with Legacy Investing and Invesco Real Estate with a sale-leaseback of its 18-megawatt facility in Plano, Texas. Flexential used the revenue from that transaction to construct a 130,000-square-foot expansion in the market. By the end of this year, Flexential aims to operate more than 220 megawatts across 3 million square feet of data center space within its 19 markets.
According to JLL research, Hillsboro is quickly becoming one of the larger data center markets in the U.S. As of June, the region's supply—563.7 megawatts—had increased by 32 percent year-over-year. Demand is outpacing supply, with vacancy at an all-time low of 3 percent, as preleasing is the norm, and new development opportunities are scarce.