A joint venture between Legacy Investing and Invesco Real Estate has closed a sale-leaseback transaction with Flexential Corp. for its 18 MW data center in Plano, Texas. Flexnetial will continue to operate the facility and will use the revenue from the sale to construct a 130,000-square foot expansion of the data center.
With the newly announced expansion, the Plano facility is set to reach more than 260,000 square feet, doubling its capacity. The data center came online in 2016, developed by ViaWest. In 2017, GI Partners completed the acquisition of ViaWest for $1.6 billion, through its portfolio company, Peak 10 Inc. Peak 10 and ViaWest were merged to create Flexential.
---
READ ALSO: Data Centers Sign Up for an Upgrade
---
The facility is located at 3500 E. Plano Parkway and offers N+1 redundancy for both power and cooling. The Tier III data center features densities of up to 1.5 kW per square foot, operates at a PUE of 1.3 and offers 24/7 monitored security systems. The data center is carrier-neutral and offers a network backbone of 100 Gbps, scalable to 400 Gbps.
The new addition will grow Flexential's Dallas footprint to more than 432,000 square feet. The Metroplex ranked third for data center leasing activity in 2020 (33.7 MW net absorption), according to a CBRE report, an increase of 30.6 percent year-over-year. Of all North American markets, only Toronto (38.1 MW) and Northern Virginia (217.2 MW) had more net absorption than Dallas-Fort Worth in 2020.
A similar move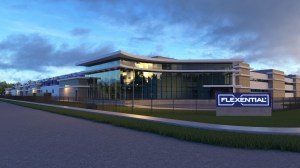 Legacy Investing and Invesco Real Estate are partnering for the second time to invest in Flexential data centers. In April, the joint venture completed a similar transaction in Hillsboro, Ore., for the construction of another data center operated by Flexential. That transaction facilitated the colocation and cloud provider's 358,000-square-foot expansion, bringing the data center to 36 MW capacity.
Hillsboro is a critical point of connection for the U.S., as it is the landing site of four transpacific subsea cables, which connect to Japan, Australia, New Zealand, Fiji, American Samoa, Hawaii and Alaska. The Portland-Hillsboro 3 facility was announced last year, with Skanska tapped as general contractor for the $64 million development.
Hillsboro ranks among the hottest markets in terms of new space being added to inventory, with 40.5 MW underway at the end of last year, CBRE research also shows.