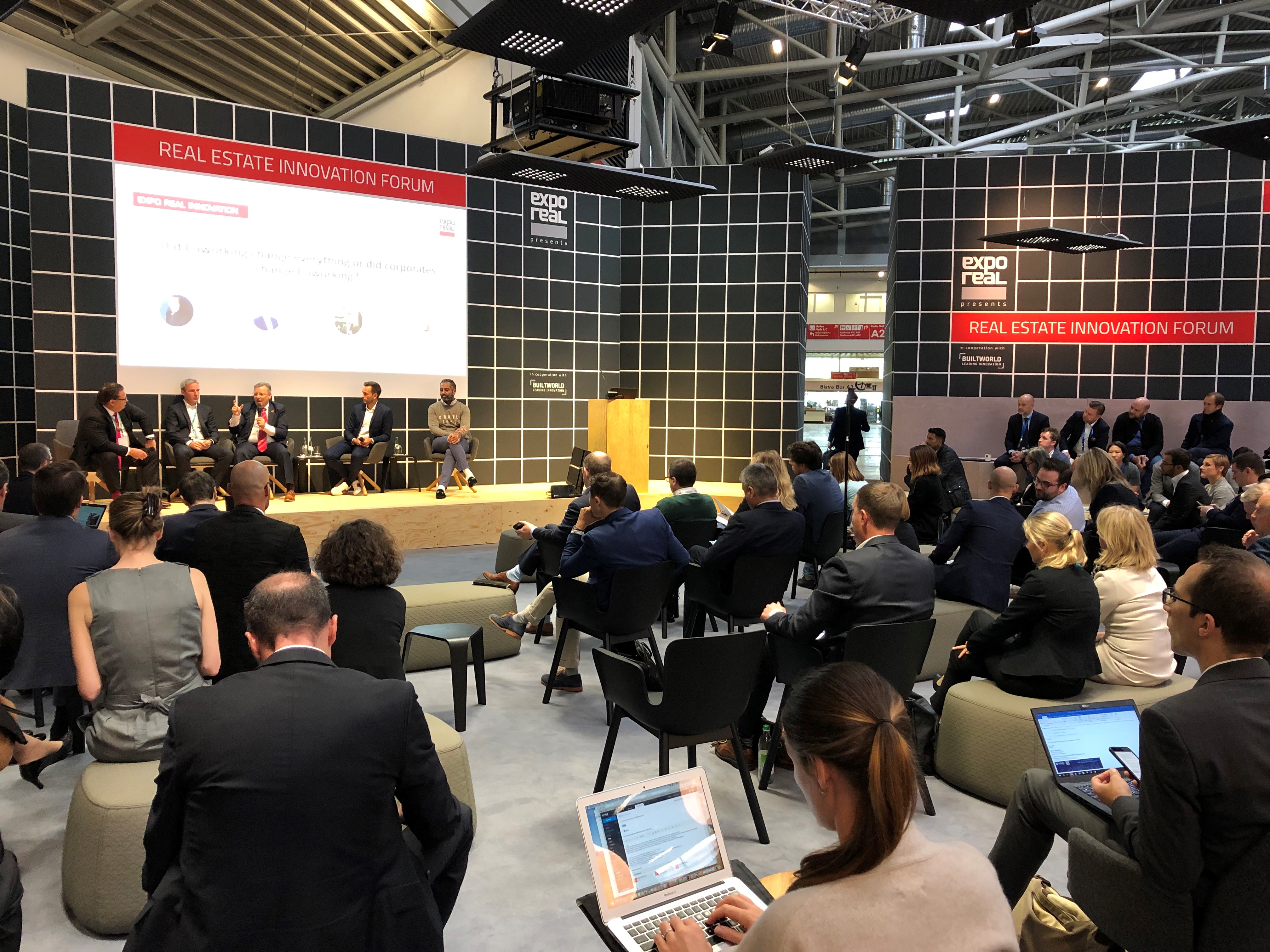 A couple of years ago, many people were wondering if coworking was here to stay. Since then, the concept has taken over large cities, leading creativity and innovation to whole new levels. But what about smaller locations? Who needs coworking space there? Is it profitable?
During the second day of Expo Real, the real estate and investment fair in Munich, Martin Bruhbach, head of site asset strategy at biotech company Roche, Thomas Glatte, BASF's director for group real estate and facility management, met Mindspace General Manager Oliver Lehmann and Knotel Co-Founder & CEO Amol Sarva to discuss the future of coworking. The panelists tried to establish if rather coworking changed the office market or if corporates changed coworking instead.
---
Read our full coverage of Expo Real 2019
---
First of all, location was brought up. Roche has more than 6,000 employees that come every day at the company's Penzberg site in Germany. The corporation has a diverse portfolio of production, laboratory, office and logistic buildings, but has not yet expanded that much into coworking. "Our sites are mainly in areas where there are not so many other companies that want to work there. Our nearest site is 40 km (25 miles) south of Munich, in Penzberg. We are by far the biggest employer there and if we wanted to give flex space out to other people there, there might not be any demand. It's definitely only our partners, who are working anyway with us. We open the space for them anyway, which makes sense. We operate our flex space differently," Bruhbach said.
Chemical company BASF also owns a varied portfolio. "Typically, we have the majority of our workplaces in or adjacent to our main production sites, that's where the big chunk of our people is sitting and that's where we, as a corporate real estate department, really provide the bulk space to our home people. We have coworking spaces in locations where we are in a start-up mode," Glatte mentioned at the panel. He also stressed that Germany's corporate world is not in Munich, Dusseldorf, Hamburg or other office hubs, but in rather smaller towns.
It's all about flexibility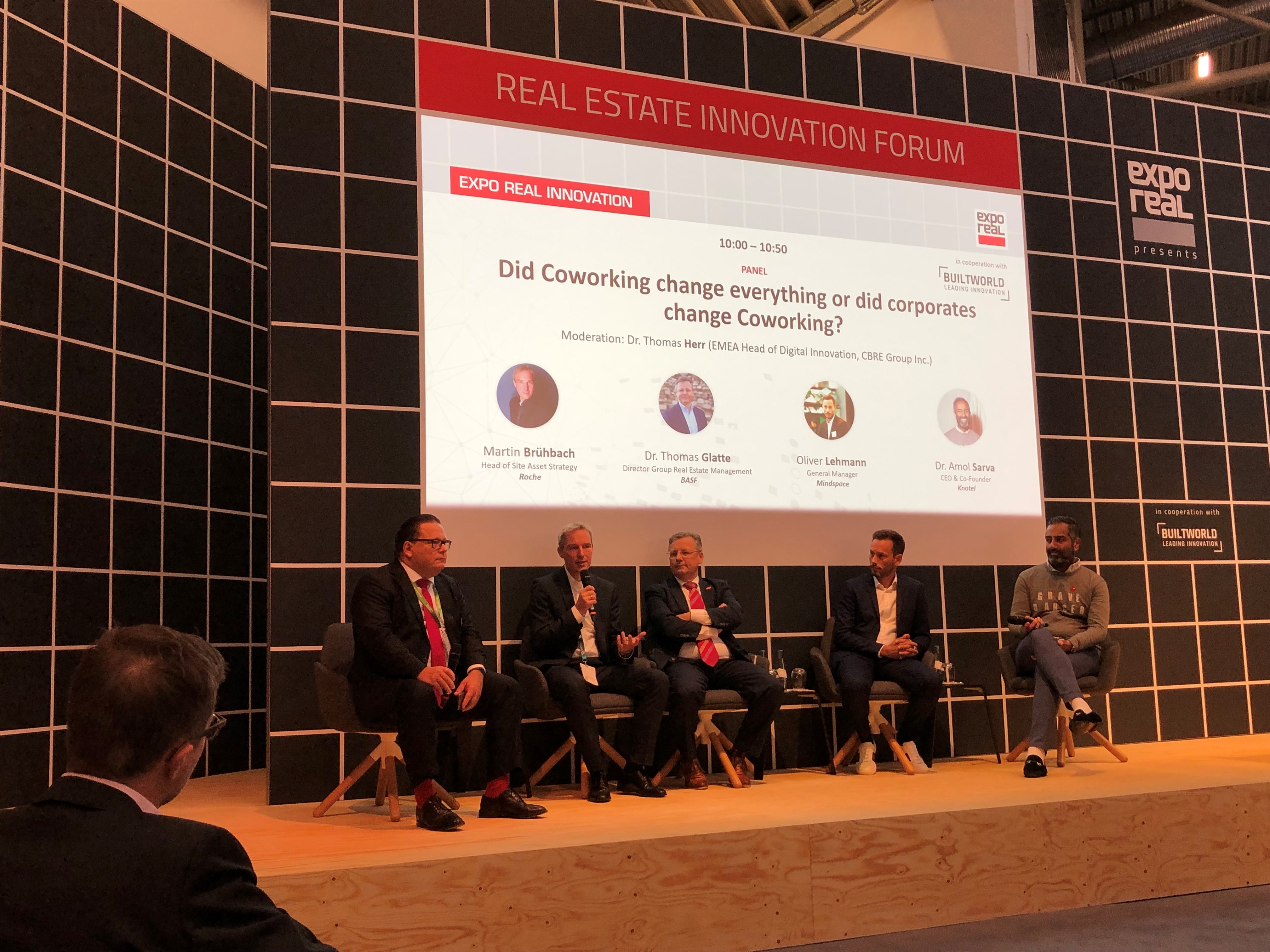 Sarva emphasized that flexibility must be at the core of any business, especially in uncertain economic times. "A few years ago, people were wondering if coworking was even worthwhile. It certainly is worthwhile. It is a useful and creative thing. And then corporates decided they loved that they don't have to make a long-term commitment and they can change everything. It's so fascinating that we still talk about coworking. Probably next year at Expo there will not be a panel on coworking. The term coworking is being absorbed into a broader concept. Flexible office is the way things will work" Sarva concluded.
At the same time, Lehmann was more keen on bringing large corporations or enterprises together with startups, so that they share their experience. "First of all, on one side you have the startups, which are fast-growing, fast-paced, and corporates can learn from them. But on the other side you have the corporates. They're experienced, they know how to scale products, they know how to sell products. This collaboration is where flex-based coworking comes in. We have around 40 percent of our space rented to corporates," he said.