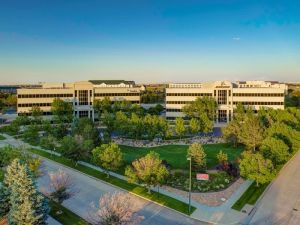 An affiliate of Equus Capital Partners Ltd. has sold Gateway Centre, a four-building, 299,600-square-foot Class A office campus in northeast metro Denver, to local firm Flywheel Capital for $66.9 million. JLL Capital Markets represented the seller and helped secure the purchase financing.
Gateway Centre totals 19.3 acres at 3950, 3800 and 3855 Lewiston St. in Aurora and 4400 Kittredge St. in northeastern Denver. The location is adjacent to I-70 and Peña Boulevard, about 12 miles northeast of downtown Denver and within walking distance of the Gateway Park light rail station.
---
READ ALSO: Pre-Pandemic Confidence Returns to CRE: NAIOP
---
The property, completed between 1997 and 2000, was recently renovated and offers amenities that include a fitness center with locker rooms and showers, tenant lounge, Wi-Fi–enabled patio with fire pit, and a covered garage for executive parking.
Gateway Centre is fully leased to 24 tenants, including Primoris, Billtrust, Leidos and Boeing. Equus reportedly has completed more than 62,000 square feet of leasing since the start of the pandemic.
JLL worked on behalf of the buyer to secure the $43.7 million financing, a five-year, fixed-rate acquisition loan with Independent Financial, which operates in major markets throughout Colorado and Texas.
The JLL Capital Markets team representing the seller was led by Senior Managing Director Mark Katz and Senior Director Peter Merrion.
Financing efforts were led by JLL Capital Market's Senior Managing Director Eric Tupler and Director Rob Bova.
Ben Hrouda, Managing Partner at Flywheel referred to Gateway Centre as a perfect fit for the firm and its investors. "With our experience in assets like Gateway Centre, especially with regard to defense contractor tenancy, we knew the type of opportunity the asset provided," Hrouda added in prepared remarks.
In a prepared statement, John Fefley, senior director at Flywheel, said the current Gateway tenants "prefer this location over others within the city due to a combination of proximity to the northeast labor force, Denver International Airport or Buckley Space Force Base…. Many tenants within the park continued to utilize their office during the height of COVID due to the nature of their government contract work and their utilization of SCIF (Secured Compartmentalized Information Facility) space within their suites."
Ongoing uncertainty
In April, Flywheel Capital received a $34 million first mortgage floating-rate bridge loan to refinance two properties in Colorado Springs, Colo. Flywheel had purchased the 288,000-square-foot Class B office-plus-industrial Interquest Office Campus in late 2018.
To a large extent, the Denver office market remains mired in uncertainty, with many tenants having to change their return-to-the-office plans because of the Delta variant, according to a third-quarter report from Newmark. Still, the report notes, "Class A space in all submarkets continues to be in high demand as tenants look to upgrade, even as some are also looking to downsize."
Across all classes, the Aurora submarket is seeing a 17.5 percent vacancy, on an inventory of 4.5 million square feet. Both year-to-date and third-quarter absorption figures are slightly negative, which is typical of the metro office market as a whole, Newmark reports.