By D.C. Stribling, Contributing Editor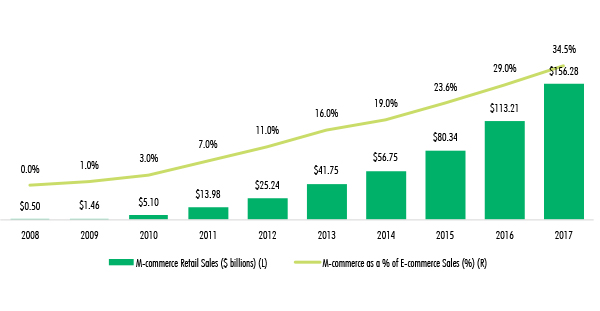 The holiday sales season this year is going to be unlike previous ones in a number of ways, according to CBRE's recently released U.S. retail holiday trends report. For one thing, while online sales will continue to grow, mobile technology will play a more prominent role than in years past, as retailers seek new ways to generate sales and collect strategic data.
As consumer expectations for convenience and speed continue to rise, brick-and-mortar brands are adding mobile tech as an integral component to their omnichannel efforts. CBRE cited an eMarketer forecast that predicts 38 percent annual growth in retail sales made through a phone or tablet in the full year of 2017, which will account for 34.5 percent of all e-commerce purchases. The majority of those sales will go to brick-and-mortar brands.
Pop-up Proliferation
Also, the trend toward rogue retailing will intensify this year with retailers' increased focus on pop-ups. Both retailers and landlords will leverage pop-ups—short-term installations either in traditional retail storefronts or non-traditional venues such as shipping containers or kiosks—with more features than before.
Finally, to execute omnichannel effectively, most brick-and-mortar brands are restructuring industrial footprints and supply chain strategies to facilitate faster and more cost-effective delivery to consumers.
According to CBRE, a new "pop-up warehouse" model is evolving to match owners of excess warehouse space with users that need that space on a temporary basis. The idea of subleasing extra space isn't new, but services that can more easily match both sides of the transaction have emerged to offer greater transparency and fewer transaction costs to the process.