By D.C. Stribling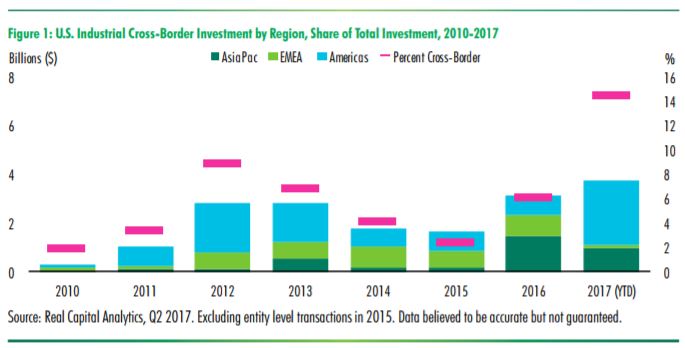 When foreign investors look to U.S. real estate markets, what do they want? A considerable number are looking to buy industrial assets, according to a new report by CBRE.
The asset class' strong performance and the growing sophistication of logistics facilities, combined with favorable investment conditions are attracting domestic and foreign investment. The industrial sector's annual return reached 12.4 percent in the second quarter, according to the National Council of Real Estate Investment Fiduciaries.
Since 2010, U.S. industrial assets have attracted nearly $61 billion in cross-border investment into the U.S., CBRE noted. Nearly half of that total (48 percent) has come from the Asia-Pacific region, largely from Singapore and China.
Also, foreign buyers accounted for 16 percent of U.S. warehouse acquisitions over the past five years. That share reached 40 percent of total warehouse investment in 2015.
Industrial real estate remains an attractive asset class for foreign buyers, although volumes will likely decrease from 2015 and 2016 levels, the report predicted. Opportunities for speculative development and acquisitions in select markets will continue, especially for multi-tenant warehouse and infill light industrial.