By Dees Stribling, Contributing Editor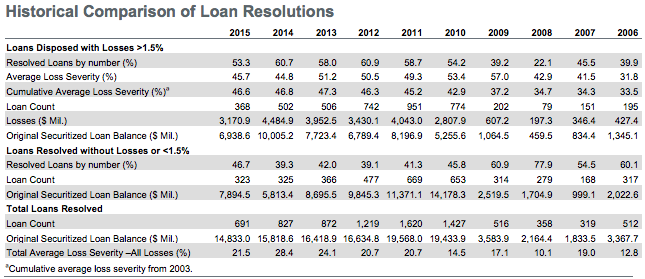 U.S. CMBS loss severities rose only slightly to 45.7 percent in 2015 from 44.8 percent in 2014, marking a steady year-over-year change and confirming the historical average at 46.6 percent, according to a new report released recently by Fitch Ratings. The loss severity rate on a liquidated mortgage is the ratio of the outstanding principal on the mortgage loans minus the realized loss, divided by the outstanding principal on the mortgage loans.
As the inventory in special servicing has fallen, Fitch explained, special servicers have accordingly resolved fewer loans in 2015 compared with 2014. But notably, the proportion of the loans resolved with a loss is lower.
"The proportion of loans resolved for a loss at 53 percent is at a six-year low and reflects 2015's robust commercial real estate markets from both a value perspective, as well as from a liquidity perspective," said Fitch senior director Karen Trebach in a statement. However, "average loss severity is expected to rise somewhat in 2016 as the increases in rents, occupancy and property prices seen over the last several years are likely to moderate and as the refinance wall of 2016 and 2017 faces a potentially lower CMBS issuance volume."
Again this year, legacy loans from peak vintages dominated resolutions. Four peak vintage transactions had over $250 million in resolutions, which resulted in significant losses. Of the major property types, retail once again had the highest average loss severity, at 54.4 percent, in line with 2014, when it was 52.1 percent.