By Barbra Murray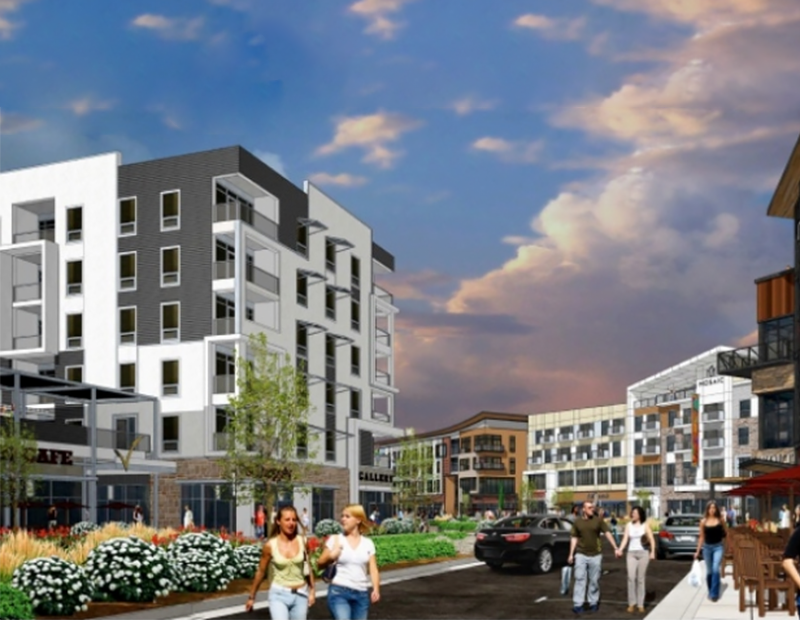 Eco Group unveiled plans for Mosaic, a mixed-use project in the Raleigh-Durham area designed to serve as a vibrant urban enclave in the middle of Chatham County's suburbia. The company, a joint venture between John Fugo of Montgomery Development and Kirk Bradley of Lee-Moore Capital Co., will build the $800 million project at the entrance of the 7,100-acre Chatham Park master planned development in Pittsboro, N.C.
Finley Design is aboard as master architect for Mosaic. At full buildout, the development will feature 200,000 square feet of retail space; 335 apartment units, 88,000 square feet of technical and creative office space; a 120-key hotel; 30,000 square feet of recreational and civic amenities, including an amphitheater at the center of a two-acre green area; and 15,000 square feet of multi-generational educational space.
"The integration of retail, office, education and residential generates a daytime energy that extends to an evening atmosphere alive with theater, restaurants and impromptu gatherings," John Fugo, co-developer at Eco Group, said in a prepared statement.
Phase 1 of Mosaic will yield 44 acres of entertainment and lifestyle accommodations at a development cost of $140 million. Eco Group is on schedule to break ground on the project's first phase, 25 percent of which will feature green space, in 2018.
A HUNGRY MARKET
The Raleigh-Durham market is ripe for mixed-use additions. Other such projects in the works include Dominion Realty Partners' $110 million FNB tower, a 22-story building that will add 150,000 square feet of premier office space, 240 residential units and street-level retail to downtown Raleigh.
The offerings that will come with Mosaic's 24/7 environment are likely to be well received; the numbers tell the story. The average retail vacancy rate for the Raleigh-Durham metro dropped to an enviable 3.8 percent in the second quarter of the year, according to research by real estate investment services firm Marcus & Millichap. Ongoing employment growth and in-migration left the area with a multifamily vacancy rate of only 5.9 percent. The strength of the office sector continues to hold, buoyed, like multifamily, by employment gains and a rise in population.
Image courtesy of Eco Group