By Barbra Murray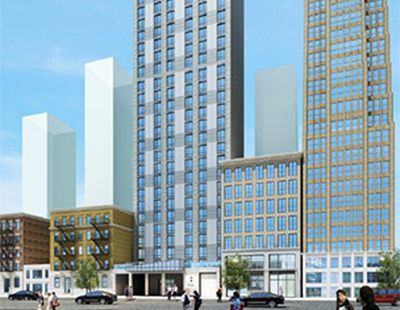 The McSam Hotel Group's development of a dual-branded hotel in Manhattan's Chelsea neighborhood continues to move forward, thanks in no small part to a helping hand from Eastern Consolidated. Acting on McSam's behalf, the full-service commercial real estate firm recently orchestrated an approximately $121.4 million construction financing package for the 526-key lodging project.
Sprouting up on a formerly vacant parking lot at 140 W. 28th St., McSam's 178,000-square-foot development will feature two separate Marriott International-branded hotels, TownePlace Suites and Springhill Suites, in a single 45-story tower.  Eastern Consolidated arranged a first mortgage of $97.5 million through Bank of the Ozarks for the project, in addition to a $23.9 million mezzanine construction loan from Square Mile Capital Management LLC.
The lending community stood up and took note of the hotel financing opportunity, and for good reason. "We had significant interest in this deal given McSam's stellar track record and history building nearly 70 hotels to date in New York City," James Murad, director with Eastern Consolidated, told Commercial Property Executive. "Additionally, McSam is able to build for a very low-cost basis relative to other hotels going up in New York City."
Reeling in the big bucks for the hospitality market
Eastern Consolidated is no stranger to securing financing for developers of lodging properties across New York City. "Contrary to market trends, Eastern Consolidated has successfully placed $723 million in hospitality financing in the last 24 months, including $463 million on behalf of the McSam Hotel Group," Adam Hakim, managing director with the real estate firm, said in a prepared statement.
In March 2017, Eastern Consolidated announced it had put together a $120 million construction financing package for McSam's 520-key Hyatt Place Hotel in Manhattan's Garment District, also through Bank of the Ozarks and Square Mile. And just prior to year's end, the firm's Capital Advisory Division announced it had arranged a $31.8 million loan with Citibank for O&O Properties Corp.'s refinancing of the 234-key Hotel Mela Times Square.
McSam broke ground on its Gene Kaufman Architect-designed project in June 2017, and with financing in hand, the developer plans to welcome guests to the hotel high-rise in 2019.
Image courtesy of Gene Kaufman Architect