By Barbra Murray, Contributing Editor
New York—Plans for the 520-key Hyatt Place Hotel in Manhattan move right along as Eastern Consolidated lands a $120 million construction financing package for the project on behalf of developer McSam Hotel Group.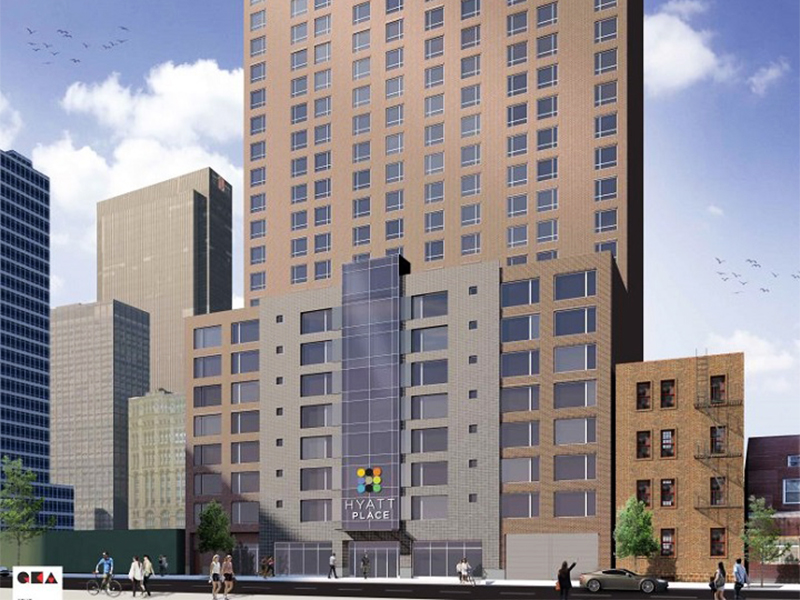 Designed by Gene Kaufman Architect, Hyatt Place will stand 25 stories tall at 350 W. 39th St. in the Garment District. The financing Eastern Consolidated's capital advisory division orchestrated for the 180,000-square-foot development consists of a $95 million first mortgage and $25 million of preferred equity secured through Bank of the Ozarks and Square Mile Capital Management LLC, respectively. The project has quite a few features that would turn the head of many lenders.
Location is always key and Hyatt Place certainly ticks that box. The property boasts a premier site near Times Square, which is hardly in danger of losing its status as one of New York City's leading tourist magnets. And it doesn't hurt that the city's hotel market is faring quite well. "New York City hosted a record 60.3 million visitors last year, which boosted the city's hotel occupancy rate to an average 90.1 percent, and more visitors are expected this year," Adam Hakim, managing director with Eastern Consolidated, said in a prepared statement. Additionally, lenders are more than a little keen on premier sponsorship, and McSam Hotel Group has quite a record in New York City as one of its largest hotel developers. Among the long list of properties built by McSam is the 492-key Holiday Inn Manhattan-Financial District, which claimed the title of the tallest Holiday Inn in the world upon its completion in 2014. The company has erected over 70 lodging destinations in New York and has many more in the works.
Bringing a structure to life from scratch in Manhattan is one of the priciest construction endeavors in the country. "When measured in U.S. dollars, building in New York City has gotten considerably more expensive than other international cities over the past year," according to a fourth quarter 2016 report by the New York Building Congress. "While this is due in part to cost increases and greater demand for construction services locally, it is also a function of the dramatically weakened rate of exchange of foreign economies against the dollar."
Despite the high cost of construction, McSam doesn't appear to be having any financial hiccups in its development of Hyatt Place. The company broke ground on the hotel in November 2016.
Rendering courtesy of Gene Kaufman Architect