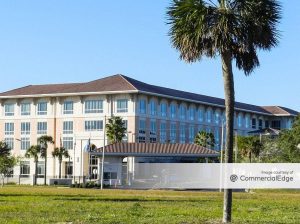 Easterly Government Properties, the largest private owner of FBI field offices, has added another building that is fully leased to the Federal Bureau of Investigation to its portfolio. Highwoods Properties sold the 138,000-square-foot office building in Tampa, Fla., for $70.4 million.
With the FBI – Tampa acquisition, Easterly Government Properties now holds 13 out of the 56 nationwide FBI field offices, placing The Bureau as the second-largest tenant across the company's portfolio, CEO William Trimble III said in prepared remarks.
In the first quarter, Easterly renewed lease agreements for another 20-year term at the 72,000-square-foot EPA Kansas City with U.S. Environmental Protection Agency as well as with the FBI at 1000 18th St. N. in Birmingham, Ala. During the upcoming months, the REIT expects to renew leases at a DEA laboratory in Dallas, the FBI field office in Little Rock, Ark., as well as an ICE facility in Louisville, Ky., according to a recent earnings call.
The purchase brings Easterly's portfolio to 8.9 million square feet across 92 office properties. Year-to-date, the firm has acquired, directly or through a joint venture, three assets for a combined $114.7 million. The acquisitions represent $92.7 million spent in favor of the maximum $250 million target for wholly owned assets and a $22 million spent toward the $145 million goal for properties owned through a partnership.
Developed for the FBI
Highwoods developed the four-story building as a built-to-suit for The Bureau in 2005. In 2020, the General Services Administration renewed the lease, which benefits the FBI. The extended long-term agreement is set to expire in November 2040.
Situated on nearly 7 acres at 5525 W. Gray St., FBI – Tampa includes various security features such as perimeter fencing, controlled access, blast protection, vehicle barriers and magnetometers, as well as a secure room or Sensitive Compartmented Information Facility (SCIF), among others.
Planning ahead
The seller also has expansion plans. Highwoods Properties recently agreed to acquire 650 South Tryon at Legacy Union, a 367,000-square-foot office building in downtown Charlotte, N.C. The company plans to invest a total of $203 million in the acquisition and stabilization of the Deloitte-anchored asset.
Highwoods also expects to finalize the $20.3 million disposition of its sole remaining property in Greensboro, N.C., in the third quarter at the latest. The 299,000-square-foot office building is 88.2 percent occupied.